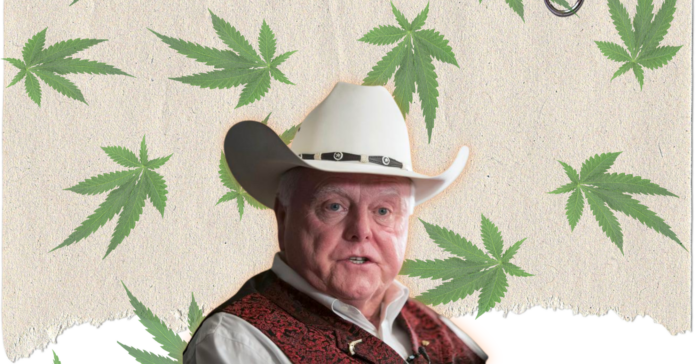 "Let's have an honest conversation about cannabis," wrote Texas Agriculture Commissioner Sid Miller in an editorial last Friday. He called for the state to loosen its drug laws to allow more people to use marijuana as medicine.

Miller is urging Texas leaders to reform the state's current marijuana laws, which he compared to the alcohol prohibition laws of the 1920s.

"It is time for all of us, including the Governor, members of the Texas Legislature and others to come together and set aside our political differences to have an honest conversation about cannabis: where we have been, where we are going and what role government should properly play," Miller said.
This is not the first time Miller has advocated for expanding legal access to cannabis. According to The Houston Chronicle, in 2020 he made a similar statement, not long after the passage of a state law that legalized hemp products that contain low levels of THC, the psychoactive compound in marijuana.

In his editorial, Miller said that he wanted state laws changed so that "so that every Texan with a medical need has access to these medicines."

He points out that 39 states have legalized marijuana for medical uses and 18 states have legalized commercial cannabis sales completely.

"While I am not sure that Texas is ready to go that far, I have seen firsthand the value of cannabis as medicine to so many Texans," he wrote.

Miller, who has been agriculture commissioner since 2014, in March won the Republican primary for agriculture commissioner and is set to face Democrat Susan Hays in the November general election.

Hays, Miller's Democratic opponent, is a lawyer and longtime advocate on marijuana reforms. She said Miller's op-ed didn't appear to go as far as her position on the issue.

"If you de-criminalize, without legalizing and regulating, what do you get? An unregulated market" Hays said. "You get Oklahoma. That's not a good idea."

Oklahoma legalized medical marijuana in 2018. Light regulations in the state led to a sudden boom in marijuana growth operations there. According to Politico Magazine, authorities in the Sooner State have said criminal organizations are taking advantage of Oklahoma's lax rules to establish growing operations there.