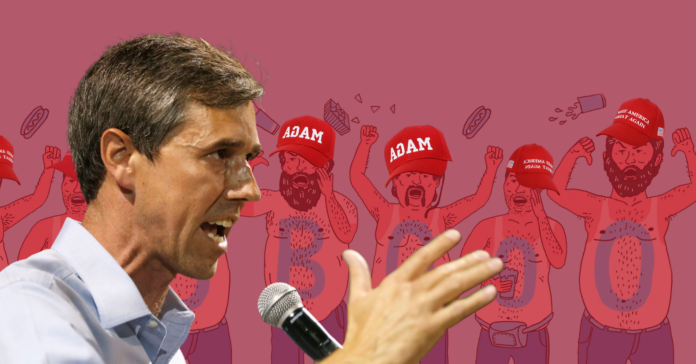 Beto O'Rourke on Wednesday responded to a Greg Abbott supporter who laughed when the candidate mentioned the Uvalde mass shooting by saying, "It may be funny to you motherfucker, but it's not funny to me."
The impromptu f-bomb dropped at the town hall style gathering was captured in a video that has generated millions of views on Twitter, followed by coverage that extended even to national news outlets, The Washington Post, NBC News , USA Today and many others.
The Democratic candidate challenging incumbent Gov. Greg Abbott voiced indignation to the gathered audience regarding laws that allow easy access to AR-style rifles like the one used to massacre 19 students and two teachers at Robb Elementary in Uvalde, Texas.
The gunman had legally purchased his firearm, which was "originally designed for use on the battlefields in Vietnam to penetrate an enemy soldier's helmet at 500 feet and knock him down dead," O'Rourke told the assembled group as he dropped to one knee and mimicked a soldier firing a weapon.
A single heckler laughed audibly.
O'Rourke initially ignored the intrusion and kept speaking, but as the laughing continued, O'Rourke finally stopped, pointed at the heckler and blurted out the now infamous retort. The crowd erupted in cheers.
​​During his run for president in 2019, O'Rourke called for a mandatory buyback of AR-style rifles, but walked that back earlier this year when he told a crowd he's "not interested in taking anything from anyone."
After the event, O'Rourke tweeted: "Nothing more serious to me than getting justice for the families in Uvalde and stopping this from ever happening again."