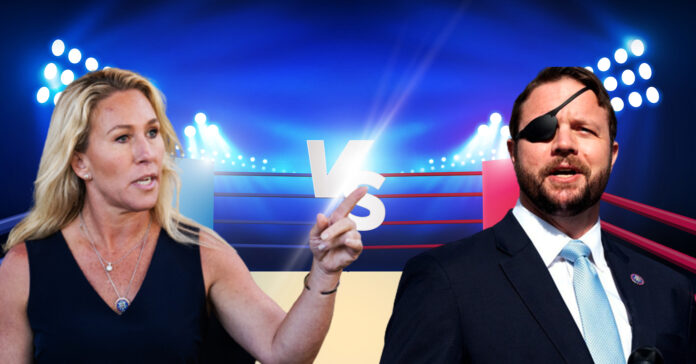 The Houston area will host competing conservative youth summits this fall featuring rivals Rep. Dan Crenshaw and Rep. Marjorie Taylor Greene of Georgia, according to the Houston Chronicle. The two have crossed swords on social media before, with Greene saying of Crenshaw earlier this year, "he needs to stop calling himself conservative, he's hurting our brand" and Crenshaw dismissing Greene as "just an idiot".
The two represent sparring factions within the Texas Republican party. Rep. Greene's politics are characterized by right-wing conspiracy theories, election denial and extreme rhetoric. Rep. Crenshaw has attempted to carve out a more mainstream, though still solidly conservative, habitat in the Republican ecosystem.
Greene's more extreme brand of right-wing, Trumpian politics has been ascendant in the party since Mr. Trump was elected president in 2016. Many in the party, once critical of Mr. Trump, quickly fell into line behind Mr. Trump once the durability of his standing with the Republican base became clear.
The "Texas Youth Summit," will take place at Grace Woodlands church on Sept. 16 and 17. It will headline conservative rabble-rousers U.S. Sen. Ted Cruz and Reps. Marjorie Taylor Greene, Lauren Boebert of Colorado and Matt Gaetz of Florida. Texas Attorney General Ken Paxton, conservative commentator Candace Owens and former White House press secretary Kayleigh McEnany will also make appearances.
The event was organized by conservative political operative, Christian Collins, who told the Houston Chronicle, "our intent is to bring in the most conservative speakers throughout the country, as well as some of the faith-based folks that can (reach) young people and equip them with the conservative values, Judeo-Christian values, that this country was founded on."
Collins, 33, ran unsuccessfully for a Houston-area congressional seat earlier this year. While he had hosted Crenshaw as a speaker at a previous youth summit, tension rose between them earlier this year when Crenshaw supported his main rival for the nomination, former Navy SEAL Morgan Luttrell, who ultimately prevailed. Rep. Greene, on the other hand, endorsed Collins and campaigned with him.
Crenshaw's event will take place on Oct. 8 and 9 and will headline more establishment conservatives Gov. Greg Abbott, former Wall Street tycoon Jordan Belfort and Seth Dillon, the CEO of the conservative satire site Babylon Bee.