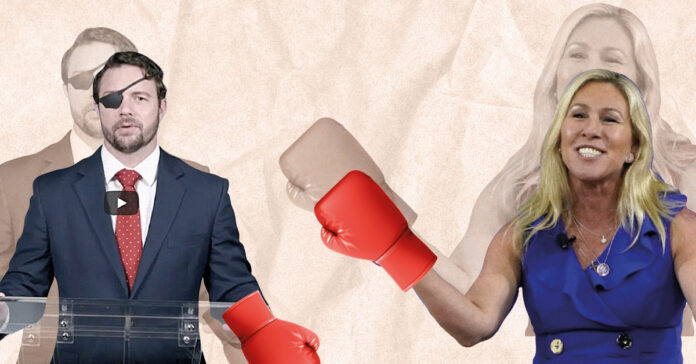 Instead of actually focusing on the Ukraine war, Rep. Dan Crenshaw and Rep. Marjorie Taylor Greene have aimed all their firepower at a social media feud that has been going on for months.

The two have lashed out on Twitter about the war in Ukraine.

Houston congressman, Crenshaw,  tweeted that investing $40 billion to help Ukraine is good for the U.S. because it is helping degrade the Russian military without risking the lives of American soldiers.

"Yeah, because investing in the destruction of our adversary's military without losing a single American troop strikes me as a good idea," he wrote.

Greene, the controversial Georgia congresswoman, did not see eye to eye with Crenshaw (what a surprise). Blaming him for suggesting Ukrainian lives should be thrown away, "as if they have no value."

"So you think we are funding a proxy war with Russia?" Green tweeted. "How does any of this help?"

Crenshaw, who has a background of not keeping his mouth shut, responded to Greene on Wednesday.

"Still going after that slot on Russia Today huh?" Crenshaw said.
The two have a long history of taking jabs at each other through social media, it was only a few months ago when Crenshaw and Greene were fighting over COVID policies.

The feud started over Crenshaw's suggestion that the federal government should utilize FEMA to expand testing nationwide. Greene took to social media to make sure everybody knew that FEMA setting up testing sites for "sneezes, coughs, and runny noses" was an absurd idea.

"He needs to stop calling himself conservative, he's hurting our brand," Greene wrote.

Shortly after, Greene's personal Twitter account was permanently suspended for spreading COVID-19 misinformation. 

So, Crenshaw sought out Instagram to fire back.

"Hey Marjorie, if suggesting we should follow Trump policy instead of Biden mandates makes you mad, then you might be a Democrat — or just an idiot," he wrote on his page.

Greene had to move to the newly created conservative social media platform called Gettr to continue the heated feud. Referring to Crenshaw as someone "who spends more time attacking America First Republicans because he (not so secretly) hates Trump." 

That all came just a month after Crenshaw warned of "performance artists" and "grifters" within the Republican Party and called out the entire House Freedom Caucus, which includes Greene.

According to The Houston Chronicle, both are two of the best-known Republicans in Congress and also happen to have the most prolific fundraisers among Republicans in the U.S. House.