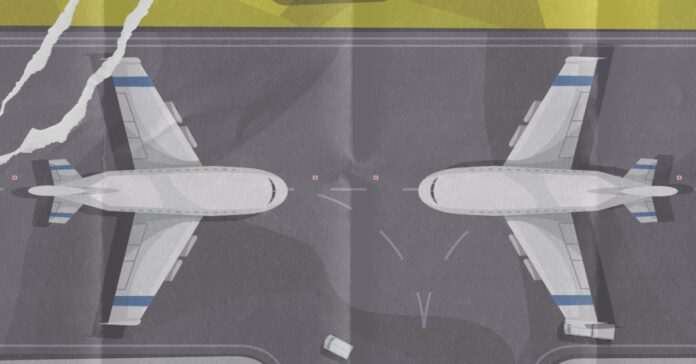 In recent weeks, a series of near misses in American skies, including Texas, have raised alarms within the aviation industry. These incidents, highlighted in preliminary Federal Aviation Administration (FAA) safety reports, largely undisclosed to the public but reported by The New York Times, underscore a growing pattern of safety lapses and close calls in the skies and on runways across the nation.

Close Calls in Texas

One incident involved an air traffic controller clearing a FedEx plane to land on the same runway as a departing Southwest flight. The planes came within less than 100 feet of colliding and were moving at more than 150 m.p.h.

Another incident occurred on an American flight bound for Dallas, traveling at speeds exceeding 500 miles per hour, when a collision warning abruptly sounded in the cockpit. This critical situation unfolded as an air traffic controller mistakenly directed a United Airlines plane to approach dangerously close, compelling the American pilot to swiftly ascend the Airbus A321 by 700 feet. 
These incidents, described as "skin to skin" encounters by the FAA, highlight the perilous situations that some flights involving Texan travelers have faced recently.

Over the past month alone, there have been at least 46 close calls involving commercial airlines operating within or to and from U.S. airports, according to FAA reports. While there have been no major plane crashes in the U.S. in over a decade, these near misses are occurring with increasing frequency, putting the aviation industry on edge.
The root cause of many of these incidents lies in human error, primarily due to a statewide and nationwide staffing shortage of air traffic controllers. As of May, only three of the 313 air traffic facilities nationwide had enough controllers to meet targets set by the F.A.A, the Times found.
In addition, The Times analyzed a database maintained by NASA that contains confidential safety reports filed by pilots, air traffic controllers, and others in aviation. They identified that in the recent 12-month period, there were about 300 accounts of near collisions.

"Is it going to take people dying for something to move forward?" a controller wrote after barely preventing a midair collision.
Grappling with Exhausting Schedules

Many controllers are required to work six-day weeks, with some accumulating over 400 hours of overtime by mid-2023. Additionally, controllers often work rotating shifts, known as "the rattler," which experts have linked to increased error risks. The FAA has made modifications to this schedule, but Texan controllers still find it grueling.

A Call for Change in Texas
Texan airlines are feeling the consequences of understaffed air traffic control facilities. Reports indicate that understaffing and challenging working conditions have contributed to a surge in flight delays and cancellations in Texas. According to Simple Flying, over 9,000 domestic flights involving Texas airports were canceled in June.
In response to these issues, a rally took place at the American Airlines headquarters, the Dallas-Fort Worth International Airport (DFW,) in June. Rallying at Texas airports and airline headquarters, they highlighted the impact of staffing shortages on safety and the urgent need for change.

As near misses in Texan skies continue to rise, the aviation industry in Texas faces mounting pressure to address the staffing crisis and ensure the safety of air travel for all passengers and crews in the Lone Star State.