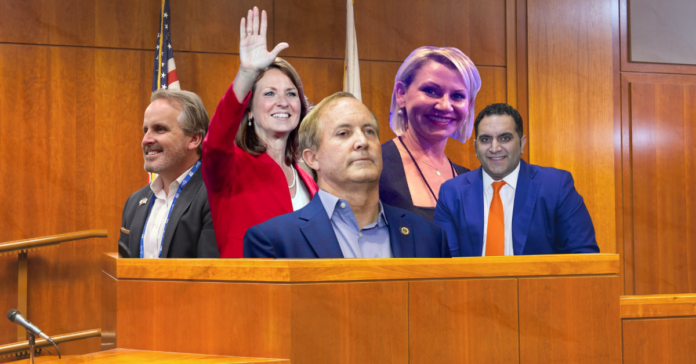 The impeachment trial of Texas Attorney General Ken Paxton is right around the corner, and a confidential witness list obtained by The Dallas Morning News has unveiled that House managers plan to call Paxton to the witness stand.

The attorney general's lawyers have repeatedly said Paxton will not testify, asserting his right against self-incrimination.

"We will not bow to their evil, illegal, and unprecedented weaponization of state power in the Senate chamber," Tony Buzbee, Paxton's defense lawyer, said of the House.

However, House managers argued Paxton must take the stand if subpoenaed, but can refuse to answer questions by exercising his constitutional right against self-incrimination, as reported by The Dallas Morning News.

Whether he will ultimately testify remains a pivotal question.

Also on the list, to no one's surprise, are the Austin real estate developer at the center of the impeachment allegations, Nate Paul, and Laura Olson, a woman Paxton is said to have had an affair with.

Recently unveiled documents submitted by House managers uncover Paxton's purported misuse of his position to bolster Paul's interests. House managers argue that Paxton interceded to obstruct a federal investigation targeting Paul and his real estate endeavors. Paxton's alleged interference, they assert, also extended to crafting tailored legal opinions intended to thwart foreclosure sales of properties belonging to Paul.

These favors allegedly came in exchange for personal benefits, such as a home renovation and employment for Olson.

Paul was indicted for federal financial crimes in June but denies all wrongdoing. According to the Austin American-Statesman, a federal grand jury reportedly looks into Paxton's ties to Paul.
Also on the House manager list is Former Travis County District Attorney Margaret Moore.
On Paxton's list of witnesses are his wife Sen. Angela Paxton, who will sit on the court of impeachment, but will not have any say in deliberations to acquit or convict. And Sen. Bryan Hughes, who was once Paxton's roommate and will now be juror in the trial and is also referenced in the articles of impeachment for his involvement regarding a legal opinion.

In a twist of fate, two of Paxton's political rivals — George P. Bush and Eva Guzman — are also featured on Paxton's list of potential defense witnesses. As well as Republican strategist Karl Rove.
Lastly, the group of whistleblowers who triggered the impeachment proceedings by making corruption allegations against Paxton appear on both lists of potential witnesses.
The impeachment trial of Texas Attorney General Ken Paxton is set to begin on September 5.