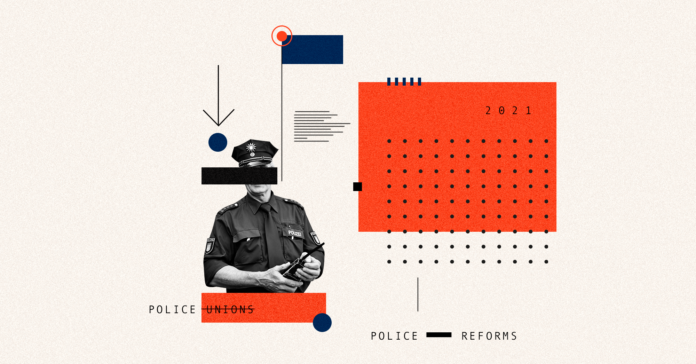 Could the images caught on camera of George Floyd dying under the knee of a Minneapolis police officer, Javier Ambler dying while being tased by Williamson County deputies, Rayshard Brooks being shot in the back by Atlanta police and Black Lives Matter protestors being tear-gassed and shot with rubber pellets be the reckoning that leads to meaningful criminal justice reform?
As Reform Austin previously reported, Texas lawmakers are already compiling lists of reforms they hope to push through the Legislature next year. Whether they succeed or fail could hinge on how much Texas' powerful and deep-pocketed police unions do to help or hinder the process. 
Following Floyd's death, Minneapolis' mayor and police chief hurled blame at the city's police union for blocking criminal justice reform. 
In Texas, some of the largest police unions responded to Floyd's death with statements condemning police misconduct but also lashed out at critics for blaming unions for the latest spate of brutality and violence.
"It's extremely disturbing, it's abhorrent what the officer did," Joe Gamaldi, president of the Houston Police Officers' Union and vice president of the national Fraternal Order of Police said of Floyd's death. 
Yet, Gamaldi later told Fox News, "We're being demonized." He then criticized police chiefs for "blaming police unions for all the ills of law enforcement."
The Texas Municipal Police Association, representing more than 29,500 officers across the state, also denounced the actions of Minneapolis officers involved in Floyd's death.
"There is no justification for police brutality," the association stated. "We strongly condemn the actions of the officer who took the life of George Floyd, as well as the inaction of his peers, and we agree that justice must be served."
"We also acknowledge a crisis of public trust in law enforcement — a trust we must carefully and deliberately work to rebuild in good faith."
Yet the association indicated that it would participate in discussions about reforms but would not support rules that would threaten the safety of officers doing their jobs.
"Any changes in law enforcement protocols must be based on fact, not emotion, false narratives or mistruths," TMPA stated.
Advocates for criminal justice reform say efforts have been hobbled by the political power of police unions to protect their members and the intertwined working relationship between police and prosecutors, which makes it difficult to hold officers accountable. 
Although some efforts at reform have been successful, police unions have had a role in quashing strict restrictions on policing.
A high-profile example was the Texas Legislature's adoption of the Sandra Bland Act, which aimed to require police training on racial profiling and bias and would have limited arrests for minor offenses that would have been punishable by only a fine.
The legislation was triggered by the 2015 death of Bland, a black woman who died of an apparent suicide in the Waller County Jail three days after being arrested during a traffic stop. Video footage from the state trooper's dashboard camera contradicted the officer's claim that she assaulted him. Instead, it showed he dragged her out of her car and used a Taser on her when she refused to put out a cigarette.
The adopted law requires investigations of jail deaths and provisions for directing inmates with mental health or substance abuse issues into treatment.
With provisions addressing police conduct stripped away, the two lawmakers who introduced the legislation will push for adding them back into the 2017 law along with reforms such as banning chokeholds that were triggered by Floyd's death.
This go round, police unions may have a harder time blocking policies and legislation than they have in the past.
"I fully expect them to push back; it's central to their mission," said Dr. Howard Henderson, founding director of the Center for Justice Research and professor of justice administration in the Barbara Jordan-Mickey Leland School of Public Affairs at Texas Southern University.
This time, their pushback will be without an ability to protect bad officers.
"Police unions have found out that they don't reserve the privilege of overlooking rogue police officers," Henderson said. "The thin blue line has been divided. Policing is, for now, denouncing police misconduct."
Henderson said most critical reforms include removing immunity in excessive and deadly use of force cases.
"Eighty-two percent of officers report having witnessed a fellow officer engage in misconduct, yet their likelihood of being held accountable remains dismal," he said. "The phone videos have shown us the body cameras by themselves are not the answer.
"There is a need for comprehensive, systematic criminal justice reform," Henderson said.
Police union officials point to their support of reforms that increase training on de-escalation tactics, prevent use of force and eliminate racial bias in policing.
"Many, if not most, departments have already adopted policies addressing 'chokeholds' along the lines of what President (Donald) Trump said in his executive order," said Kevin Lawrence, president of TMPA. "We believe those are good policies.
"Bias training and de-escalation tactics have been part of our training regimens for many years, and we continue to adapt and improve those trainings."
Combined Law Enforcement Association of Texas, which bills itself as the largest police officers' union in Texas, supports additional reforms with some caveats.
"We are supportive of a reform on use of force guidelines as long as they are statewide and uniform," said CLEAT Executive Director Charley Wilkison.
"CLEAT supported the ban on racial profiling and supports strengthening the law as long as it considers that officers work where they are assigned. They do not have a choice.
"Any restructuring of the statute should not be designed to be punitive toward officers who are assigned to high-crime areas," Wilkison said.
CLEAT would also support lowering traffic fines and a statewide system that addresses late fees to eliminate arrests and incarceration of those unable to pay, he said.
Reform Austin reached out to the Houston Police Officers Union and the Dallas Police Association for comment for this story, but neither responded.