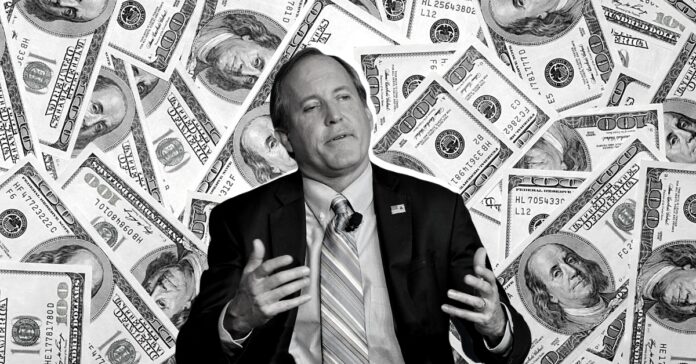 The Legislature's conference committee reconciling differences between the House and Senate versions of the state budget moved to block Attorney General Ken Paxton's office from using state funds to settle a whistleblower lawsuit.
A provision added on page 7 of the 2024-25 General Appropriations Bill prohibits "the Office of the Attorney General from using any appropriated funds for the purposes of a settlement of judgment relating to lawsuits or claims filed under Chapter 554 of the Government Code," which is commonly known as the Whistleblower Act.
In February, Paxton reached a tentative $3.3 million settlement with four of his former top officials, who accused him of corruption and reported his misdeeds to federal authorities in October 2020. An apology from Paxton was part of the terms of the agreement.
Three months earlier, Paxton was re-elected to a third four-year term. An FBI investigation ended without charges but Paxton remains under a 2015 indictment for securities fraud.
The four whistleblowers who filed the lawsuit were among eight employees who were fired or forced to resign by Paxton in retaliation for reporting his wrongdoing to authorities.
After the tentative agreement was reached, the whistleblowers and Paxton agreed to suspend the lawsuit, then pending before the Texas Supreme Court, until the deal was finalized.
The plan for paying the whistleblowers for lost wages and other compensation was to come from state funds approved by the Legislature.
Several lawmakers, including House Speaker Dade Phelan, and Rep. Jeff Leach, R-Plano, who chairs the House Judiciary and Jurisprudence Committee, have expressed concern about using taxpayer funds to pay off the settlement.
The provision added into the conference committee report is further indication that lawmakers don't want to spend tax dollars to bail out Paxton.
Both the House and Senate must approve the budget before the end of the session.
"The Legislature's emphatic rejection of payment for this settlement imposes an important accountability measure for an attorney general that has evaded real consequences for various scandals clouding his office," said Adrian Shelley, Texas Director of Public Citizen, a non-profit organization that advocates for consumer, justice and democracy.
"The message to Paxton is clear: taxpayers won't pay to make this problem go away for you," Shelley said. "You figure it out."
Public Citizen conducted an online petition urging the Legislature to reject paying the whistleblower case settlement.
With the settlement in jeopardy, the whistleblowers have asked the Texas Supreme Court to resume the lawsuit.
The case is only a part of about $6 million that has cost taxpayers for defense attorney fees, to root out election fraud in the 2020 election and carry out priorities of his conservative agenda.
Paxton also faces a misconduct lawsuit brought by the State Bar of Texas for his attempts to overturn presidential elections in Georgia, Michigan, Wisconsin and Pennsylvania. Paxton's suit to overturn elections in those states was rejected by the U.S. Supreme Court.