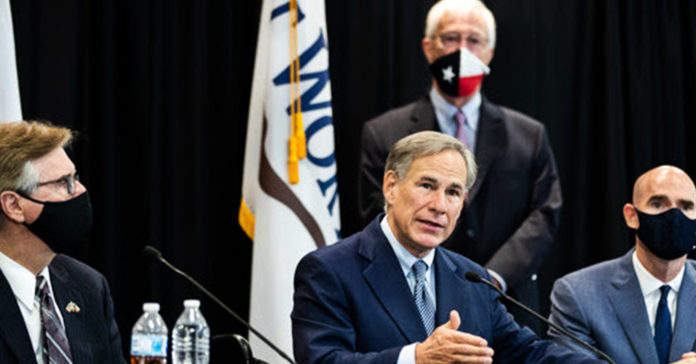 Gov. Greg Abbott, Lt. Gov. Dan Patrick and Texas House Speaker Dennis Bonnen traveled to Fort Worth, the only major Texas city led by a Republican, for a Tuesday news conference to announce their intent to introduce legislation in 2021 to freeze for forever the property taxes of any Texas city that cuts police funding.
"If they do make the decision to defund law enforcement, they are constricting their ability to ever be able to meet the other needs they have," said Abbott. "The fact of the matter is, if we have lawlessness in our cities caused by local decision-making policies that reduce law enforcement officers, it is going to cause chaos throughout the entire community, and we are not going to allow it."
The threat ups the ante against Austin, which last week cut its police budget by $150 million and reallocated the dollars to social services. Although people in other Texas cities have discussed defunding options in the wake of protests that followed the death of George Floyd in May, Austin is the only one to have actually done it.
Patrick was more partisan than Abbott, taking direct shots at Democrat Austin Mayor Steve Adler and accusing the left of also wanting to take "guns away from private citizens."
"I don't want to hear about defunding police," said Patrick. "We need every officer we can get on the street. We do not have enough now. We need to be recruiting, we need academies. We need to be investing in police. We need to be training. We need to be doing all of these things and any mayor of any city like Mayor Adler in Austin who is going in the opposite direction is putting every citizen at risk."
Other officials at the news conference included Tarrant County's Republican delegation:
Fort Worth Mayor Betsy Price
State Sen. Jane Nelson (R-Flower Mound)
State Sen. Kelly Hancock (R-North Richland Hills)
State Rep. Charlie Geren (R-Fort Worth)
State Rep. Craig Goldman (R-Fort Worth)
State Rep. Stephanie Klick (R-Fort Worth)
State Rep. Giovanni Capriglione (R-Southlake)
Abbott noted that Austin has reduced its police budget at the same time it holds the number one spot in the nation for homicides. As Reform Austin reported, the murder rate in the state's capital city has risen 64%.
The governor agrees that police reforms are needed but says cutting police budgets is not the answer.
Only about $20 million of the $150 million reduction in the Austin Police Department budget came directly from police operations. The rest represented a shifting of areas within the department to civilian oversight.
At this point, Abbott, Patrick and Bonnen are merely floating an idea. To make it reality, they would need to convince a majority of their colleagues in the legislature to vote yes. That could prove a difficult task, especially if Texas Democrats are successful in their effort to take back the House in November.