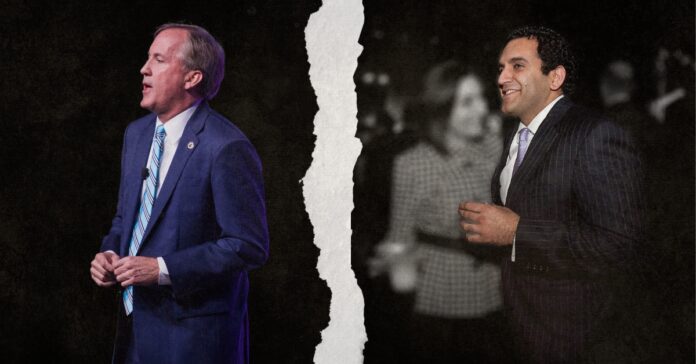 Real estate developer Nate Paul, a pivotal figure in the scandal that led to the historic impeachment of Ken Paxton, has been formally indicted on eight counts of making false statements. Notably, the government is looking for $172 million in restitution from Paul.

During Paul's (36) initial court appearance in federal court in Austin on Friday, U.S. Magistrate Judge Dustin M. Howell announced that Paul has been charged with eight counts of financial crimes. The charges stem from allegations that Paul engaged in the act of making false statements to mortgage lenders and credit unions. It is alleged that these false statements were made with the intention of inflating his assets and minimizing liabilities, all in an effort to secure loans for his businesses.

Paul will be released today, on the condition that he surrender his passport and leave Texas only after notifying the court.

Paxton, who is also under federal investigation, was not mentioned during Paul's indictment. However, according to The Dallas Morning News, the attorney general's defense attorney said on Thursday that he believes the FBI will try to flip Paul against Paxton.

The FBI initially searched Nate Paul's troubled real estate empire, including his Austin offices and luxurious residence, in 2019. The following year, eight of Paxton's top deputies reported the attorney general to the FBI, accusing him of bribery and abuse of office. These allegations stemmed from Paxton's involvement in hiring an external lawyer to investigate Paul's claims of wrongdoing by federal agents.
The FBI investigation into Paxton, triggered by his staff's allegations, is ongoing. The same allegations form the basis of the 20 articles of impeachment approved by the GOP-led state House of Representatives. The impeachment charges include abuse of public trust, unfitness for office, and bribery. According to the impeachment, Paxton is accused of using his position to assist Nate Paul with unproven claims of a complex conspiracy aimed at stealing $200 million worth of the developer's properties. It is alleged that, in return, Paul employed a woman with whom Paxton had an extramarital affair and financed costly renovations to the attorney general's million-dollar Austin home.
Both Nate Paul and Ken Paxton have denied the bribery allegations. Paxton, who has also been separately indicted on securities fraud charges in 2015 but has yet to stand trial, he vehemently denies any wrongdoing and his lead defense attorney has dismissed the impeachment case as baseless.

The trial is scheduled to commence no later than August 28, and the Senate will establish its own rules for the unprecedented proceeding, as Paxton is only the third sitting official in Texas history to face impeachment charges.
*Please note that this is a developing story.