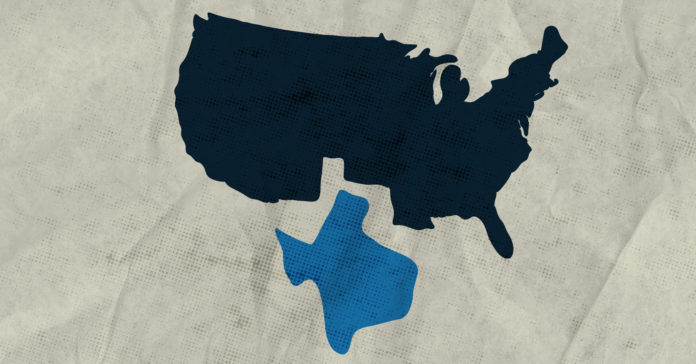 While each state has its own orientation about their state identity, Texans may be above the rest in their focus on statehood. Having entered the Union in 1845 after being its own country, Texas has retained a strong sense of its independence ever since. While this is a source of pride for many Texans, it often leads to an unhealthy separation of Texas from the rest of the country and costs the residents of the state both directly and indirectly when federal aid is needed.
This was never more apparent than during last week's winter storm. While the storm was historic in its scope, Texas' reliance on its own subpar grid and its inability to share electricity with other states left Texans paralyzed for most of the week.
Due to overwhelming demand on the power grid, frozen equipment, and poor planning the inaptly named Electric Reliability Council of Texas (ERCOT) instituted a series of rolling blackouts intended to last 10 to 45 minutes per location. Instead, many residents were without power, heat, and water for days. To further emphasize how this "go it alone" attitude backfired on most of the state, the parts of Texas still on the Western grid maintained power and suffered far less than everyone else—due in large part to their ability to share electricity with the rest of the nation. The speaker of the Texas House called for a joint meeting of the State Affairs and the Energy Resources committees and the Governor declared the reform of ERCOT an emergency item this legislative session. It remains to be seen what will happen but suffice it to say that Texans are angry.
While the Texas Legislature works to iron out this new wrinkle, they will be facing another looming budgetary crisis that is a result of their desire to maintain independence from the federal government. Texas is one of the few states that have rejected the expansion of Medicaid—and therefore the full amount of federal aid—under the Affordable Care Act (ACA). Texas has been granted a waiver regarding Medicaid, commonly known as an 1115 waiver, which provides federal dollars for innovative practices and uncompensated care for about 60 cents of every dollar spent. But Medicaid expansion provides a 90% reimbursement, leading many to complain that Texas is unnecessarily leaving money on the table.
The crisis the Texas Legislature currently faces is the expiration of this waiver over the next two-years. Since the Legislature only convenes once every two years, if they don't address the expirations this session they will not be able to address it without a special session. With uncompensated care payments alone reaching nearly $4 billion in 2020 many people think the cost of not acting could be much higher.
Medicaid expansion under the ACA is now a decade old so the argument that the federal government might somehow stop funding it and leave the state "holding the bag" seems very unlikely. Both parties seem to be concerned about the cost of this alleged "self-reliance" by the state and several bills have been filed to address it. Notably, a bill and a resolution by Rep. Lyle Larson (R-San Antonio) which would put Medicaid expansion to a vote has been filed in the Texas House. Pointing out the value of participating in the federal program, Larson says "Refusing to expand Medicaid is a bad business decision for Texas. We have an opportunity this legislative session to fix this. If the Legislature approves, we can allow Texans to decide whether to expand Medicaid in a ballot initiative." Larson's bill and resolution are notable since he is a Republican – the party that has traditionally opposed Medicaid expansion.
Next, while it does not signify a refusal of federal funds, some think that the state's use of public education stimulus dollars represents a departure from federal intent. Last spring, Texas received $1.3 billion for public education in federal stimulus dollars under the Coronavirus Aid, Relief and Economic Security (CARES) Act. While some states decided to spend their money directly on public schools, Texas used a portion of its funds to fill other holes in their budget by supplanting existing state education costs leaving some districts scrambling to make up their losses elsewhere. Now, Texas is poised to receive another $5.5 billion in stimulus aid for education, but school officials have no idea how that money will be allocated, and many districts and public education advocates are fearful that it will be used to supplant costs as well.
Many education advocates are calling for those funds to be directed toward the needs of children. Madison Yandell of Texas 2036 said, "Federal stimulus funds provide an opportunity to get our students back on track." She contends that the state should consider additional days for learning and intensive tutoring.
"With these funds, the Legislature should have all it needs to maintain HB 3 funding—with resources potentially left over to make sure COVID learning loss is comprehensively addressed," said Yandell.
Whether it is infrastructure, healthcare, or education the decision of the state to disconnect from the federal government is often a costly one. We saw this last week with the failure of our power grid and our inability to share electricity with other states. We witnessed this attitude this last year with the diversion of federal funds intended for pandemic relief for our public schools. And we have seen this again and again over the past decade in the state's unwillingness to expand Medicaid. To continue to refuse to be a part of the rest of the country on things that matter is foolhardy and dangerous for Texas. Texans should be proud of their state and of their heritage while taking advantage of the greater community that is the United States.