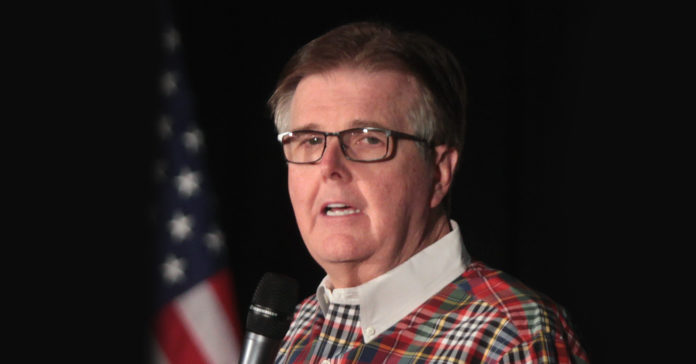 Appearing on Fox News' Tucker Carlson show Monday evening, Lt. Gov. Dan Patrick doubled down on his inflammatory comments from last March about letting seniors die so the COVID-19 lockdowns could end and everyone could get back to work.
"The left has taken this virus, and they weaponized it to take control of government and our lives. It's very clear. Lives have been destroyed, businesses have been destroyed, the economy has been destroyed — again, particularly in the 'D' states," Patrick said.
Patrick maintains he was right back in March and he is still right — the lockdowns were wrong and should have never happened.
"As I said back then, those of us over 70, trust us. We're smart. We can take care of ourselves," he said.
"Dan Patrick is a carnival barking clown. Thanks to Republicans like Dan Patrick, Greg Abbott, and Donald Trump, Texas now has more cases than California and more deaths than New York," said Abhi Rahman, Texas Democratic Party spokesperson, in a statement to Reform Austin. "If Dan Patrick says something, the opposite is almost certainly true. It's time to elect Democrats up and down the ballot who are going to end the coronavirus crisis and build our economy back better. As for Dan Patrick, we'll see him in 2022."
Patrick's comments come as Texas is seeing COVID-19 cases and hospitalizations tick up again. A new lockdown went into effect in El Paso on Friday. In other Texas cities, residents are being urged to voluntarily avoid bars, gyms, movie theaters, dining inside restaurants and other indoor group activities.
Dallas County Judge Clay Jenkins said that Gov. Greg Abbott's lifting of restrictions is sending conflicting messages.
"What happens with that is people hear that, they may not be going to a bar but they think it's now safe to have friends over to watch the Cowboys game or do something else they want to do," he said. "We keep jumping the gun, and it puts us back in a situation which hurts public health and businesses and schools."
Abbott allowed bars to reopen last Wednesday, but only with the approval of county judges. Approximately 90 counties have opted in to the looser restrictions, but bars remain closed in Austin, Dallas, Houston and San Antonio.