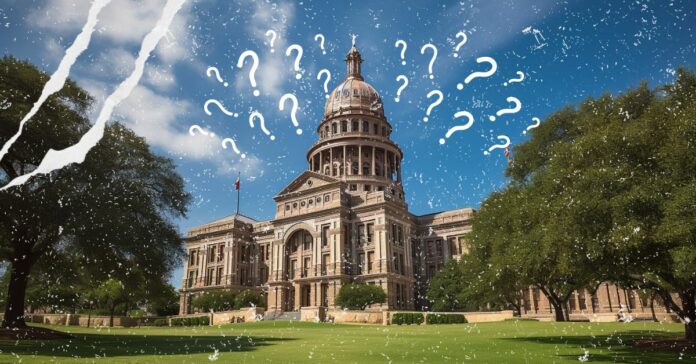 The 88th Texas Legislative session is just weeks away from sine die. Many proposed laws have already died as they failed to pass legislative deadlines. Here are some to watch this week.
Vouchers
The Texas House is currently in a hotly contested debate over the approval of a "school choice" bill, Senate Bill 8. The bill would allow parents to use state money to pay for private school tuition, and is a high priority for Governor Greg Abbott.
The proposed Education Savings Accounts (ESAs) have angered many public education advocates, however, and some lawmakers are pushing back. The Republican Party's efforts to promote school choice have faced uncertainty due to opposition from Democrats and rural Republicans in the House. Earlier in the session, these lawmakers took a symbolic vote against the policy when they voted in favor of the 'Herrero Amendment.'

In an unexpected Tuesday night uproar in the House, members shot down committee Chairman Rep. Brad Buckley's attempt to call a last-minute Public Ed hearing to vote on SB 8. On very short notice and with no formal hearing, Buckley tried to schedule a vote on a committee substitute for Senate Bill 8, an 80-page proposal that would give families at least $7,500 in education savings accounts to spend on private school tuition.

However, Buckley's last-minute attempt to convene a meeting faced an unexpected roadblock in the House. In spite of a pressure campaign from the governor, the House voted 76-65 to block the committee from meeting.
The short-circuiting of normal House procedures created an unsavory image of a back-room deal making. Fellow Republican Rep. Ernest Bailes (R-Shepherd) spoke against the "backroom shady dealings" regarding the Machiavellian attempt to vote CSSB 8 out of committee without a hearing.
The failed vote is a warning shot for Abbott and his cherished voucher plan. This is the second blow to voucher-like legislation on the House floor, including the recent failure of the Herrero amendment; it's clear that the ground beneath vouchers is becoming increasingly treacherous.

The failed attempt to vote on SB8 has prompted the House Public Education Committee to attempt a Hail-Mary pass, and scheduled a last-minute public hearing on Monday. However, concerns arise as only invited testimony will be allowed, limiting public input. With the end of the session approaching, time is running out to pass legislation.
Several opponents of vouchers are criticizing the hearing on social media, urging constituents to call Buckley's office to take action against vouchers, since they won't have the opportunity to do it in the public hearing.

Transgender Legislation
The Texas House of Representatives has given initial approval to Senate Bill 14, which proposes to ban puberty blockers and hormone therapy for transgender minors, the furthest the bill has reached in the legislative process.
The proposed legislation has met with significant opposition from Democrats, including parliamentary challenges which temporarily delayed its progress. If passed, SB 14 would make it illegal for minors to receive transition-related care, including surgery, although the latter is very rarely performed on children.
The bill would also require those children currently receiving treatment to be gradually weaned off it in a medically appropriate manner. Proponents of the bill claim that health care providers are pushing treatments on young people, while opponents, including trans Texans, LGBTQ advocates, and medical groups, insist that access to such treatment is essential to supporting the mental health of trans youth.
Pending a final vote, the bill would return to the Senate, which has already passed a similar version.
Property Taxes
The Texas House of Representatives has passed House Bill 2, a $12 billion proposal aimed at providing property tax relief to property owners throughout the state. Authored by State Rep. Morgan Meyer and backed by House Speaker Dade Phelan, the bill proposes putting $12 billion into Texas school districts to lower their property taxes for homes and businesses. The proposal would also lower appraisal caps from 10% to 5%, which would apply to business property owners, including restaurants and apartment complexes.
The Senate has its own property tax relief hopes in Senate Bill 3, which proposes to increase the state's homestead exemption from $40,000 to $70,000. The exemption would lower the tax bill on a $300,000 home by about $664 a year and, for disabled homeowners and homeowners 65 and over, about $795 a year.
During debate on HB 2, State Rep. Trey Martinez Fischer attempted to add an amendment that would boost the homestead exemption and cut the appraisal cap to 7.5% for home and business owners, but the amendment failed by 12 votes.
The passage of HB 2 potentially sets up a property tax relief showdown between the House and Senate, with Lt. Gov. Dan Patrick arguing that tightening appraisal caps is not the answer and Phelan countering that lowering the cap is meant to ease property owners' concerns over eye-popping property appraisal increases in recent years. Cutting the state's high property tax burden has been a top priority for Texas Republicans this legislative session.
The "Death Star" Bill
Republican lawmakers in Texas are planning to adopt a bill to limit the self-government powers of cities and counties. House Bill 2127, known as the Texas Regulatory Consistency Act, has already passed the House and is now in the Senate.
The bill would require cities and counties to obtain permission from state lawmakers before legislating in eight different fields, including finance, the environment, and labor and occupations. Hany Khalil, executive director of the Texas Gulf Coast Area Labor Federation, called it a "Death Star bill" that could wipe out the protections of tenants from slumlords and other safeguards.
The bill is intended to provide regulatory stability and certainty that enable businesses to expand within Texas. However, local leaders fear it will hinder their ability to respond to hurricanes, industrial fires, and other issues.
State Senator Brandon Creighton authored an identical bill to HB 2127 in the Senate and is the lead advocate for Burrows' measure in the upper chamber. The Senate is likely to take up the legislation on Monday.
HB 2127 is not the only bill preempting local control on the agenda for the 88th Legislature.
"We are actively tracking well over 1,000 bills that would impact city services," said Bill Kelly, the City of Houston's director of government relations. "And this is, by far and away, the most that we have ever had on our 'oppose' track."