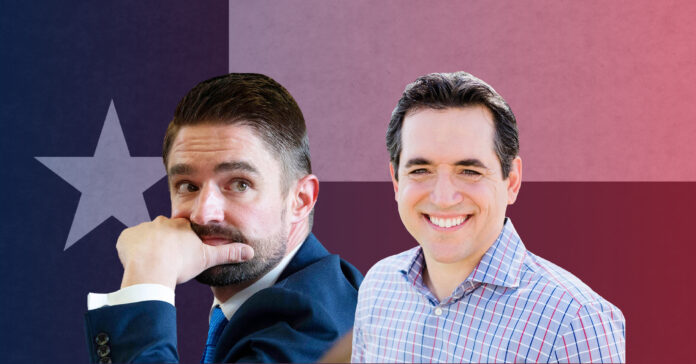 The November election once again delivered Texas Republicans full control of the state, but as the next state legislative session looms they seem to be spending a lot of time bickering with each other like they didn't get the present they wanted under the Christmas tree.
There is an ongoing campaign to remove Rep. Dade Phelan (R-Orange) from the Speaker position even after he shepherded through a veritable conservative wish list of bills in the last session. Despite his work, he has resisted calls to make Texas a one-party state by denying Democrats chairs on committees. The official Texas GOP Twitter account has been systematically going through Republicans and trying to shame them into supporting the chair project.
"Rep. Leach your support for #NoDemChairs is missing, can we count on you to fight for your constituents and ensure good Republican policy can pass in the Texas House?" said one retweet aimed at Rep. Jeff Leach (R-Allen).
The campaign was picked up by the Collin County GOP Chairman Rohit Joy, who accused Phelan and anyone opposing Democrat chairs of being secretly anti-Trump.
Not surprisingly, the Texit crowd has waded in fully on the #NoDemChairs argument.
"The bottom line is that today's Twitter feud between Jeff Leach and Matt Rinaldi illustrates a key point: Republican establishment leadership does not follow the will of the people as expressed in the RPT platform," they said in a recent blog post. "Those of us who favor Texas independence already have a bit of disdain for the Republican leadership in the Texas legislature. They stall, they bloviate, they talk, they strut like a 'conservative' rooster, and somehow the head of the Calendars committee says "we ran out of time." They target conservatives within their own ranks and yet favor their donors and the leaders of the other party."
Outside of the Speaker fight, one of the most bitter feuds in the Texas legislature also heated up over the holidays. Lt. Governor Dan Patrick once again fired shots at retiring Rep. Chris Paddie (R-Carthage). Paddie headed the powerful Texas House State Affairs Committee and was the architect for much of the state's grid reform. The reform that was eventually passed is largely seen as ineffective and overly business friendly. The lack of teeth when it came to holding power companies accountable made Patrick and Paddie regularly spar.
Now, Paddie is moving on as a lobbyist for several energy companies, including Vistra. This could be in direct violation of a recently passed Texas law that forbids former congress members from lobbying for two years after they leave office, which Paddie has tried to circumvent with some . . . interesting math.
Patrick seems to have no interest in letting the matter go. He took another potshot at Paddie on Twitter.
"News @ChrisPaddie lobbying for @VistraCorpGA is disappointing & troubling," the tweet read. "His actions last session on ERCOT grid failures were disingenuous & unprofessional, some say underhanded. Vistra leadership & shareholders should know he's lost his credibility & not welcome in my office."