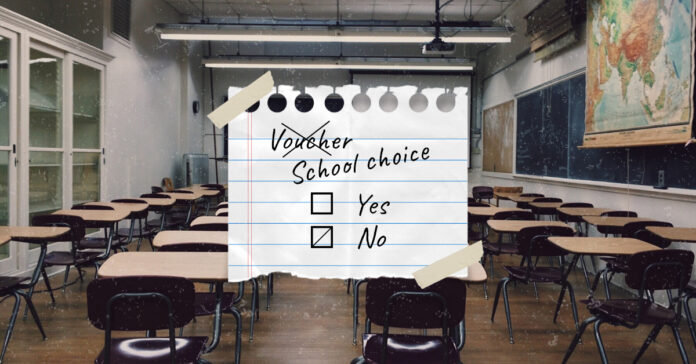 Click here to download our RA News App for Apple or Android. 

A new University of Houston poll, suggests that "61% of Texans support a policy that would provide low-income Texas parents with tax-funded vouchers ." Let's break down the poll, to see what it actually means.
It's interesting to see the way this question was approached, people were asked to "support", "somewhat support", "somewhat oppose" and "strongly oppose" three lengthy paragraphs that push the reader into a very obvious direction.
Give low-income parents tax-funded vouchers they can use to help pay for their children to attend private or religious schools of their choice instead of public schools

Give low-income parents, only in Texas counties with more than one million residents (Bexar, Collin, Dallas, Harris, Tarrant, Travis), tax-funded vouchers they can use to help pay for their children to attend private or religious schools of their choice instead of public schools.

Give all parents tax-funded vouchers they can use to help pay for their children to attend private or religious schools of their choice instead of public schools.
When reading a poll it is important to ask ourselves if the question seems fair with a balanced set of choices. It is quite clear the UH questions don't present an equitable set of choices, nor are they unbiased. Vouchers are presented as a utopian policy that will help all parents who decide to quit on public schools – but how lawmakers are planning to do this is not disclosed, since that would demolish their perfect smokescreen for school choice.

It's hard to ignore the partiality of the poll towards one side since it conveniently agrees with what far-right Republicans are pushing in the 88th Texas Legislature, the "school choice" mantra has been a main pillar of both Abbott's and Patrick's agendas.

We can't help but wonder if this is another wishy-washy attempt by the far-right to rebrand vouchers and sell it in a nice package to people all over the state.

Speaking of stuff being bought, let's take a look at who funds the Hobby School of Public Affairs. According to them, all their polls for the 2023 legislative survey series were self-funded.

UH is not a private school, so it receives substantial funding from the State of Texas through the legislative process. What a coincidence that the poll pushes a Republican agenda, with the state of Texas being a majority Republican state, with Republicans controlling every statewide office and both chambers of the state legislature.
Journalist Scott Braddock drives an interesting point by tweeting that when you want conclusions that right-wing donors would want, Mark P. Jones, Senior Research Fellow who authored the report, is your go-to guy.
So, in the end, who really benefits from this poll? The far-right Republican agenda.

In reality, the UH poll demonstrates that only 33% of Texans are all-in on vouchers ("strongly support,") for low-income families and 29% for all families regardless of income. The other 67 and 71% range from "somewhat support" to "strongly oppose" – not taking into account the ∼16% of Texans who answered they "didn't know."

But, do Texans actually know the full picture? The UH poll provides more than just a simplistic depiction. Let's examine the facts and statistics to get a clearer picture.

For the 2023 school year, there are 1,819 private schools serving 308,659 students in Texas, this is a small fraction of the total number of students attending public schools ( there are 9,057 public schools, serving 5.37 million students,) according to the private school website Private School Review.

This means just 5% of all K-12 students in Texas are educated in private schools. What happens to the 95% that attend public schools if vouchers are approved?

Let's say lawmakers decide to make school vouchers universal. The actual cost of private schools outstrips the amount provided by any proposed voucher payout to date. That essentially makes a voucher little more than a government subsidy for the wealthy — who can already afford to foot the bill for the cost of attending.
The private elementary school average tuition cost is $10,068 per year, and the private high school average is $11,637 per year in Texas. And that is only tuition, most private schools also foot a bill for technology, books & supplies, field trips, uniforms, athletics, application fees, parent association fees, insurance, transportation or room and board, extracurricular costs, and summer program costs. Which could up the cost by $3,000-$4,000 yearly.

Also, keep in mind that is an average, the range of tuition costs for the listed 425 private schools in the state is a gulf — with the lowest tuition cost being for Chinquapin Preparatory School, with a tuition of $1,170 — and on the high end is The Gateway Academy, with a cost of $43,530.

Under the Texas bill, filed by state Sen. Mayes Middleton, families who opt out of public schools would receive just the average amount of money it costs Texas to educate a child. Funding for the policy would mainly come from taxpayer money.
Where does this leave all the children who don't have access to or can't afford a private school?

While the UH poll concludes that 59% of people living in rural counties support vouchers for low-income Texans, and 62% support it for all Texans, we can't dismiss the lack of details the survey provided for them.

Even Patrick has been wishy-washy on the topic of vouchers in rural schools for fear of losing support. Where does his vagueness stem from?

Rural areas only have around 2,000 campuses, making that ∼2% of all Texas schools, according to the U.S. Department of Education's National Center for Education Statistics. Of that total, it is unknown how many are private schools, but the percentage is likely to be low.

The loss of funding for traditional public schools will be more acutely felt if students decide to leave the district for private schools. Rural superintendents are concerned that the loss of dollars could be devastating.

Reducing local public schools' funding is the main reason 54% of all respondents in a recent Charles Butt Foundation poll said they opposed a voucher program in their communities. The Butt poll, surveyed 1,125 Texan adults, including about 340 public school parents – a demographic which is not highlighted in the UH poll.

In conclusion, is empowering a few privileged parents worth hurting thousands of students in public schools? This is the real question that we should be asking Texans.