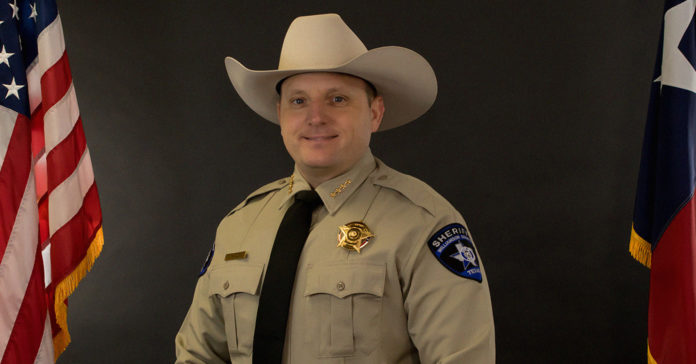 Williamson County Sheriff Robert Chody was indicted on a felony charge of evidence tampering and booked into jail on a $10,000 bond Monday, according to the Austin American-Statesman, which appears to have been the first news source to report on the story. The charges were issued in connection with the custody death of Javier Ambler.
The indictment was issued by a Williamson County grand jury that heard from 19 witnesses before reaching its decision.
Ambler died in 2019 after being tased four times by Williamson County deputies. A video crew with the reality TV show "Live PD" was with police filming at the time. That video has not been released, but the police bodycam footage was released last summer. On that video, Ambler can be heard telling officers he has a heart condition and cannot breathe.
"This indictment is 100% baloney," said Chody, who quickly posted bail and was released. The sheriff claims the charges against him were engineered by Williamson County District Attorney Shawn Dick.
"Let me be clear. I did not tamper with evidence," Chody said at a news conference with his attorney.
Dick dismissed Chody's claim, saying he is bound by the law.
Travis County District Attorney Margaret Moore said she believes charges are also warranted in her county. She intends to empanel a grand jury of her own in October and said it is possible to complete that process before she leaves office at the end of the year.
Since June, there have been calls for Chody to resign.
"Since I learned about the senseless murder of Javier Ambler in June, I have consistently called for Sheriff Chody's resignation," said state Rep. James Talrico (D-Round Rock) in a statement provided to various media outlets. "This is the same sheriff who cut the county's award-winning Crisis Intervention Team, promoted white supremacists in his department, and gave gift cards to his deputies for using force."
Talrico said he is working with the Ambler family to write legislation that will ban Texas police departments from working with reality TV shows like "Live PD." He also supports the George Floyd Act package of police reforms proposed by the Texas Legislative Black Caucus.
Williamson County Attorney Jason Nassour has also been indicted on the same charges as Chody.
"Live PD" has claimed the video footage no longer exists. A&E canceled the series in June.