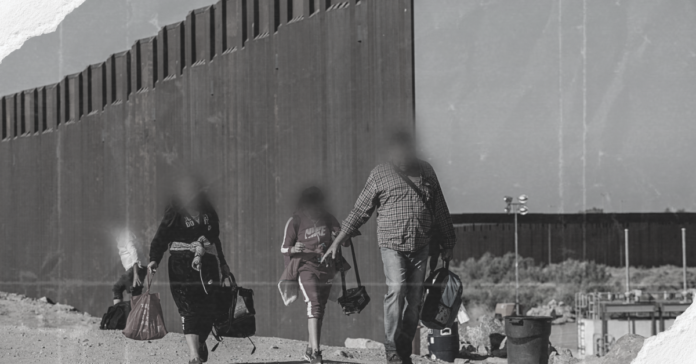 President Joe Biden's plan to curb the chaos at the border that was announced in January is already reducing the number of crossings, according to the U.S. Border Patrol migrant encounter rates, which dropped from 250,000 in December to 130,000 last month.
But the news is unlikely to stop the GOP barrage of attacks on the Biden administration, as conservative politicians and prime-time pundits — from Gov. Greg Abbott to Fox News Tucker Carlson alike — wield the border security issue as a powerful political weapon.
Despite the recent success of the Biden plan that has reduced the border crossings by roughly 50 percent, new House GOP leadership has already held hearings and talked of impeaching Homeland Security Secretary Alejandro Mayorkas over what they have publicly deemed the "Biden border crisis."
The decrease in border crossings is due to the Biden agreement with Mexico to take back Cubans, Haitians, Nicaraguans, and Venezuelans under Title 42, a pandemic-era rule that denies migrants the right to seek asylum to quell the spread of COVID-19.
That agreement, coupled with the Biden administration's plan to admit up to 30,000 a month of those four nationalities if they apply online, enter via an airport, and find a financial sponsor in the U.S. is responsible for the decrease in physical crossings at the border.
Biden visited the Texas border at El Paso in early January on his way to the North American Leaders' Summit in Mexico City, marking the first time he has visited the area since taking office in 2021, which Republicans vociferously criticized him for thus far during his term. The new immigration rules were rolled out by the administration in January after being previously announced in October.
The administration plan denies asylum to anyone who travels through another country to the U.S. without seeking protection there, which would prohibit all non-residents of Mexico who appear at the U.S. southern border. The expansion of the program forces migrants to apply for asylum from their home country while expelling those who tried to enter the U.S. unlawfully from Mexico in response to the massing of migrants at the border.
"Effective immediately, nationals from Venezuela, Nicaragua, Cuba, and Haiti who attempt to cross our border unlawfully will be very swiftly returned to Mexico and will be found ineligible for this program," a senior administration official told reporters during the visit.
The scope of the new program deals only with the migrants from those four impoverished countries facing political and economic turmoil in the region, and under the plan, migrants from the four nations will be allowed entry and given work permits if they follow the program.
"Do not — do not just show up at the border," Biden said when he announced the changes, but he did acknowledge the danger and hardships that lead many to make the journey north. "Stay where you are and apply legally from there," he advised.
Immigration A Decades-long Problem For Both Parties
The vast majority of migrants are fleeing socio-political instability and unspeakable violence, and for many, it's a run for their lives. Primarily, they are fleeing Venezuela and Haiti, both countries that have recently been destabilized and have descended into abject poverty and chaos.
And while the new plan may indeed impede vulnerable migrants trying to escape dangerous conditions in their native countries — no other efforts, whether initiated by the federal government or by Gov. Greg Abbott — have reduced the sheer number of migrants congregated at the border.
The Biden plan marks the latest non-legislative attempt to address immigration, which has been a hot-button issue for congress for decades going back to the Reagan administration, which ultimately backed amnesty for all migrants in the country illegally.
Reagan's 1986 Immigration Reform and Control Act made any immigrant in the country before 1982 eligible to stay — something not typically associated with the godfather of modern conservatism — and certainly not the current MAGA version of the GOP.
But Biden's moves angered some Democrats who are concerned that he is essentially extending a Trump-era policy they view as anti-immigrant. And the pandemic-related limits on asylum via Title 42 are expected to end May 11, but according to AP News, legal challenges appear imminent.
Since 2017, the U.S. has been the world's most popular destination for asylum-seekers, according to the United Nations. But under U.S. law, there is no cap on asylum admissions, as asylum eligibility is part of international law. It can take years for asylum cases to make their way through a badly backlogged system.
Of course, Republicans cast Biden's expansion of the humanitarian parole for the four nationalities as a ploy to divert attention from the border — and accuse him of using the proposed migrant solutions as part of his reelection bid — and will not likely ever let up on their criticism of the president and Democrats on the issue of immigration.
Numbers, Optics, And Polls Tell Different Stories
Dan Restrepo, a top White House adviser on Latin America during Barack Obama's presidency, said the primary issue with migration "is the sense of chaos and disorder that can be created by images of overwhelmed processing facilities and the like at the physical border."
"It's less the numbers and more the imagery" that bothers voters and said he believes Americans will accept high levels of immigration if a reasonable process can be followed.
A recent AP-NORC poll finds that more U.S. adults want the number of asylum seekers to be reduced rather than increased, and predictably most Republicans say there should be fewer accepted, while Democrats lean toward increasing rather than decreasing the level of asylum-seekers. But that poll was taken on Feb. 16-20, before the administration proposed that asylum should generally be denied to migrants who pass through another country without applying for protection there if it is deemed safe on Feb. 21.
The poll showed that 39% of U.S. adults approve of Biden's handling of immigration, and 38% approve of him on border security. About two-thirds of Democrats — but only about 1 in 10 Republicans — say they approve of his handling of either issue.
So the next poll results should reflect the changes on the ground now that the situation is markedly better in terms of sheer numbers massing at the border.
U.S. Rep. Tony Gonzales, R-San Antonio, accused fellow Republicans of politicizing the border for their benefit, further escalating the friction within the Texas GOP. Gonzales said ultra-conservative members of his party have stood to gain from a sustained migration conflict.
"Anyone who thinks a 3 page anti-immigration bill with 0% chance of getting signed into law is going to solve the border crisis should be buying beachfront property in AZ," Gonzales tweeted in February in an apparent reference to legislation introduced by U.S. Rep. Chip Roy, R-Austin regarding the border, continuing the media feud between the two GOP lawmakers. Not coincidentally, last week state party leaders censured Gonzales for his support of gun control laws and same-sex marriage.
Gonzales and other critics of using migration as a political tool point to the constant broadcasting of video footage of migrants at the border as a feature of Fox News and helps fuel the GOP-driven hysteria — which in turn helps their candidates and political action committees raise donations.
Fox News reporter Bill Melguin said in a prime-time special entitled "Battle for the Border" on Nov. 3 that he spent more than 200 days on the Texas border, and said "We've been shooting the video all day long," reporting from Eagle Pass.
"We keep getting these massive groups of 150 to 200 crossing every single day," he added in a typical Fox report from the border.
And not surprisingly Fox dramatized the scene by using night-vision drone cameras to show hundreds of migrants walking across the border, each one appearing as a luminous white figure slowly advancing across the darkened screen.