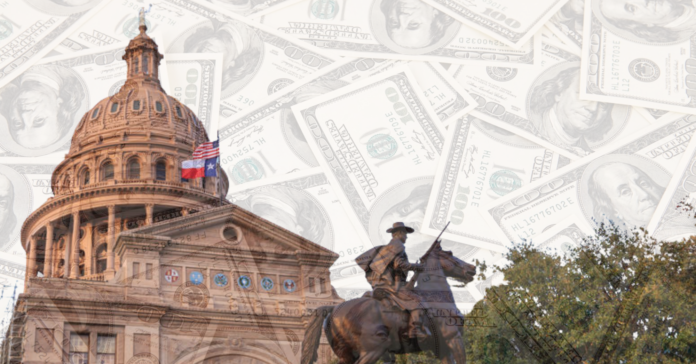 New campaign finance reports released last week by Texas legislators, elected statewide officials and candidates for both show an early glimpse into the competitiveness of some of the upcoming primaries as candidate filing continues.
These special session contribution reports cover the period of time between September 7, 2021 (the day the Governor signed the proclamation calling the third special session), through October 19, 2021 (the date of final adjournment), except for those candidates that participated in the November special election runoff for House District 118.
Here are the highlights for statewide officials, candidates who have announced or filed to be on the ballot:
Governor
The Republican primary race in the Governor's race is lopsided. Incumbent Greg Abbott outraised everyone in the state with $5 million. This came from over 40,000 donors, though 5 and 6 figure donations from 54 individual donors and 10 entities comprised 42 percent of the fundraising haul. Abbott's top donors were as follows:
$500,000
– Bobby Cox, Fort Worth Restaurant Operator (e.g. Rosa's Cafe, Taco Villa)
$100,000 each
– Bob Gregory, Texas Disposal Systems owner
– Javaid Anwar, Midland oil mogul
– Brian Follett, Executive at anti-abortion Heroic Media
$50,000 each
– Toby Neugebauer, Dallas energy investment firm co-founder
– Melissa Neugebauer, Dallas philanthropist
– Carole & C. James Looke III, Houston oil tycoon
– Arcilia Acosta, Dallas construction mogul
– Carlos Zaffirini Jr., healthcare finance consulting firm CEO & son of Sen. Judith Zaffirini (D-Laredo)
– Chi-Kao Hsu, Houston pipeline company VP of Engineering
Former State Sen. Don Huffines raised $1.26 million. He received the largest check of the reporting period, $600,000 from Dallas real estate mogul Scott Hall. He also received $100,000 from his twin brother, Phillip, and $50,000 from Empower Texans megadonor and West Texas oilman Tim Dunn.
The other challenger, former Texas GOP chair Allen West raised $356 million. His top donor was Caryn Borland, who gave $35,000. According to news reports, former Vice President Mike Pence once declined going to a fundraiser hosted by Caryn Borland and her husband because of their support of QAnon conspiracy theories. A third challenger, TV commentator Chad Prather, raised $14,000.
In the Democratic primary, Beto O'Rourke announced November 15, well after the filing period for the third special session, but it's expected his demonstrated fundraising prowess will be seen in the next filing in January. None of the other announced or filed candidates, Deidre Gilbert and Michael Cooper, submitted a campaign finance filing.
Attorney General
The Republican primary race in the Attorney General's race is perhaps the most competitive with each candidate and the incumbent raising more than hundred thousand dollars in the 42-day fundraising period. Land Commissioner George P. Bush outraised incumbent Ken Paxton, former Texas Supreme Court Justice Eva Guzman, and State Rep. Matt Krause (R-Fort Worth) who dropped out of the race Monday. Bush raised $550,000, while Paxton raised $541,000, Guzman raised $329,000, and Krause raised $435,000. Krause received a large chunk of that fundraising haul, $309,000, from fellow House Freedom Caucus member and oilman Mayes Middleton (R-Walisville). Louie Gohmert, who just joined the race, filed well after the reporting period, but claims to have raised $1 million this month.
Despite an FBI investigation into allegations of bribery and an indictment for securities fraud, Paxton received a $100,000 check from GOP mega donor and Cross Creek Ranch owner Michael Porter. He also received a $26,000 check from Dallas anesthesiologist Neal Fisher, $25,000 check from Frisco auto dealer Patt and Sharon Lobb, and a $20,000 check from Dallas construction firm owner Frank Peinado.
George P. Bush's top donors included tech investor Alexander Davis and his wife Lindsay, Houston real estate mogul Edward P. Roski Jr, who all wrote $50,000 checks. Bush was also in-kinded $32,000 worth of billboards from Edinburg MediaChoice CEO Curtis Ford.
Guzman's top donors included beer distributor and GOP mega donor John Nau III and Kinder Foundation President Nancy Kinder, who each wrote $25,000 checks.
As for the Democrats running for attorney general, former Galveston Mayor Joe Jaworski raised $ 166,000 while civil rights attorney Lee Merritt raised nearly $30,000. Former ACLU staff attorney Rochelle Garza announced her campaign on Nov. 1, well after the reporting period.
Jaworski's top donations came from Pennsylvania startup CEO Jeffrey Westphal and Houston attorney Joseph Jamail III, who each wrote $10,000 checks. Merritt's fundraising haul was primarily from small-dollar donations from over a 1000+ people.
Lt. Governor
Lt. Gov. Dan Patrick has a few primary challengers, but they all raised less than a thousand dollars during the fundraising period. Patrick still outraised his potential general election opponents in the Democratic primary. He raised $549,000 while Mike Collier, who Patrick beat in 2018, raised $217,000 and former Bush strategist Matthew Dowd raised $372,000. State Rep. Michelle Beckley (D-Carrollton), who announced a week ago, raised $460.
Patrick's largest contributors include NewQuest Properties managing partner Steven Alis, who wrote a $35,000 check, and Chevron digital specialist Roy Martinez, Texarkana trial lawyer Cary Patterson, and San Antonio mortgage attorney Allan Polunsky, all three of whom wrote $25,000 checks.
Collier's largest donors included retired AT&T General Counsel Wayne Watts, who wrote a $25,000 check, Houston attorney Joel Shannon and Dallas board member of the Innocence Project of Texas Jenny Saphier, who each wrote $10,000 checks.
Dowd's largest checks were $5,000 from 7 individuals. He raised $373,000 from over 5,100 donors.
Agriculture Commissioner
Incumbent Sid Miller, who earlier opted against a rumored Governor bid to run for re-election, raised nearly $45,000. His primary challenger, Chairman James White (R-Hilister) raised nearly $30,000.
Miller's top donors were Empower Texans mega donor and Midland oilman Kyle Stallings and Dallas billionaire real estate developer H. Ross Perot Jr., who each wrote a $10,000 check.
White's top contributor was the Alabama-Coushatta Tribe, who wrote him a $10,000 check.
No Democrat has announced for the race.
Land Commissioner
The Land Commissioner office is vacant as George P. Bush is running for Attorney General. State Sen. Dawn Buckingham (R-Lakeway) announced her candidacy for heading the General Land Office shortly after Bush announced his. She raised $170,000. The other challengers include Republican Jon Spiers, who raised $5,000, and Ben Armenta, who raised $17,000.
Democrats Jay Kleburg, Michael Lange and Jinny Suh have all announced in the last two months. Suh announced on September 23, two weeks into the filing period, and was the only one to submit a contributions report, which showed $3,000 raised.
Railroad Commissioner
Chairman Wayne Christian is the only Railroad Commissioner on the ballot in 2022 and he raised nearly $100,000. He has two announced challengers, Dwayne Tipton and Thomas Slocum. Tipton raised $2,300 while Slocum filed his treasurer appointment for the race in late October well after the reporting deadline.
Democrat Luke Warford only announced this month.
Comptroller
Incumbent Glenn Hegar faces no announced challenger in his party. Last week, former 2018 candidate for House District 17 Janet Dudding, who is an accountant by trade, filed with the Texas Ethics Commission to raise money for a campaign for comptroller. Hegar raised $141,000 during the reporting period. His top donor was H. Ross Perot Jr., who wrote him a $25,000 check. He also received checks from two Dallas hoteliers, $10,000 from TRT Holdings founder and billionaire Robert B. Rowling and $5,000 from Monty Bennett.