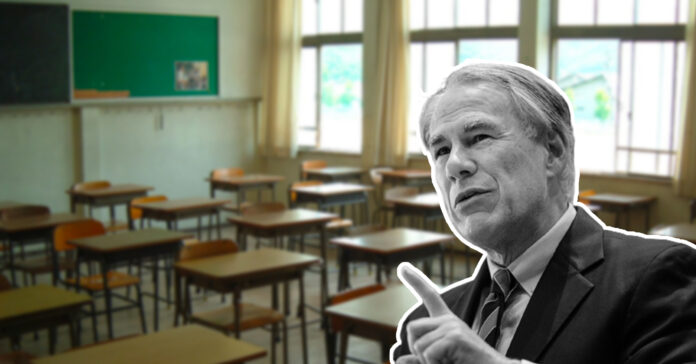 On Wednesday, Gov. Greg Abbott said he wished to challenge a 1982 U.S. Supreme Court decision requiring state funds from school districts to offer free public education to all children, including those who were not "legally admitted."

Abbott made the remarks during an interview on the Joe Pags radio show, a conservative radio talk show, after being asked whether the state coil takes steps to reduce the "burden" of educating the children of undocumented migrants living in Texas.

"Texas already long ago sued the federal government about having to incur the costs of the education program, in a case called Plyler versus Doe," Abbott continued. "And the Supreme Court ruled against us on the issue. … I think we will resurrect that case and challenge this issue again, because the expenses are extraordinary and the times are different than when Plyler versus Doe was issued many decades ago."

In that case, the court ruled that "education has a fundamental role in maintaining the fabric of our society," and withholding it from the children of immigrants in the country without paperwork "does not comport with fundamental conceptions of justice," as reported by The Houston Chronicle.

During his administration, Abbott has made immigration and border security his top priorities, and in the past months has made several attempts to stop the influx of drugs into the country.

The state is pouring billions of dollars into border security and Operation Lone Star, where Texas National Guard troops are patrolling the border and apprehending immigrants and refugees. Recently, his border initiative was approved with a $495 million transfer from other state agencies – defunding several state law enforcement agencies for an operation that has no end date in sight.

In another effort to secure the border, Abbott directed state troopers to inspect trucks crossing Texas' biggest ports of entry for human trafficking, weapons, and drugs – in addition to those already performed by federal customs authorities.

The inspections clogged up hundreds of trucks, suppliers were forced to shift their import routes to other ports of entry outside Texas, produce spoiled en route and warehouses sat empty. After a few days of chaos at the border, Abbott inevitably shut down his operation, after reaching an agreement with his counterparts in Mexico. 

Most recently, The governor set up buses to transport migrants from Texas to Washington, in an attempt to protest the federal government's immigration policies. However, the White House and some of the migrants themselves have thanked Abbott for the free cross-country ride, as many intended to go to Washington anyway or it will be easier for them to access services from there.