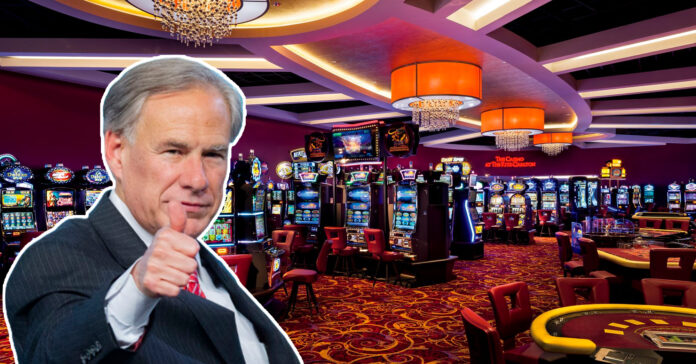 Since 2015, Governor Greg Abbott has been staunchly against any expansion of gambling in the state of Texas. Just weeks before facing re-election, he has softened his stance just a bit.
"We don't want slot machines at every corner store, we don't want Texans to be losing money that they need for everyday expenses, and we don't want any type of crime that could be associated with gaming," Renae Eze, Abbott's press secretary, told The Houston Chronicle. "But, if there is a way to create a very professional entertainment option for Texans, Gov. Abbott would take a look at it."
Abbott's opponent, former congressional representative Beto O'Rourke, has voiced cautious support for expanded gambling in the state, citing the fact that residents are already spending money on gambling by traveling beyond Texas.
"From listening to Texans across the state, it's one, a very popular proposal, and two, it would also help us address some of the challenges we have in reducing inflation and property taxes in the state," O'Rourke said in an April press conference. "So I think that warrants a very close look and it's something I'm inclined to support."
Both men would have to propose a constitutional amendment to expand gambling. With the exception of the lottery, horse races, and a few other betting streams, Texas overwhelmingly voted to keep gambling out of the state in 1991.
That said, there has been considerable pressure put on Texas lawmakers to reconsider the issue. The Ysleta del Sur Pueblo and the Alabama-Coushatta tribes have spent years lobbying the governor's office and legislatures to get approval for their charitable electronic bingo halls. Currently, only the Kickapoo have the right to host casinos despite the fact federal law should protect the Ysleta del Sur Pueblo and the Alabama-Coushatta. So far, Abbott has stayed at arm's length from the issue.
It's clear that big gambling interests have their eyes set on Texas eventually changing its tune on gambling. Most of the big sports team organizations, including the Texas Rangers and the Houston Rockets, spent the 2021 legislative sessions trying to get sports betting approved in the state after the federal ban on the practice was lifted. The attempt to amend the constitution went nowhere, but there is likely too much money on the table for the franchises to give up.
The company owned by late casino mogul Sheldon Adelson has also dropped huge money betting that Texas will accept casinos. Before he died Adelson hired some of the biggest names in Texas lobbying to make the case for new casinos in the Lone Star State. While Adelson's death threw the efforts into limbo, Abbott's position change could indicate that those efforts are finally bearing fruit. Abbott has received millions in campaign donations from various gambling interests.
Mental health experts have repeatedly urged lawmakers not to expand gambling in the state, citing the problems of addiction and Texas' lackluster addiction treatment options for lower class residents. Minority groups and veterans are at far higher risk for addictive gambling than other demographics.