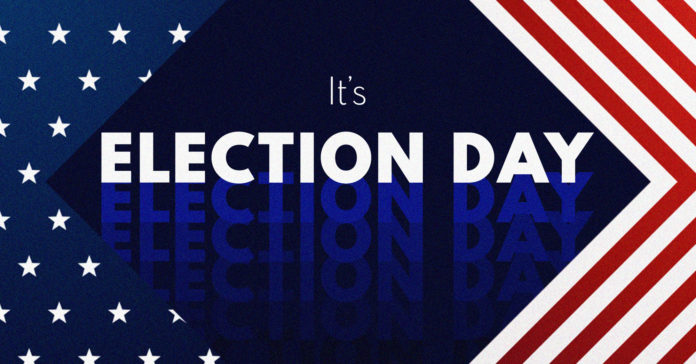 If you have waited until today to vote, you have until 7 p.m. to get it done. If you are in line when the polls close, you will still be allowed to cast your ballot.
In addition to choosing between President Donald Trump and former Vice President Joe Biden at the top of the ticket, Texas voters are also deciding whether to give U.S. Sen. John Corynyn another term in office. He is in the political fight of his life against Democratic U.S. Senate nominee MJ Hegar. Late polling has shown Cornyn leading Hegar.
The road to the White House is running through Texas for the first time in decades. High turnout for the early voting period coupled with polls showing it will be a close race at the top of the ballot have pundits around the country saying Texas is a toss-up this year.   
Will the Texas House Flip?
The presidential matchup is the headliner, but there are other contests that have generated national interest, including the effort to flip the Texas House. RA News polling indicates it can happen. Our numbers are bolstered by analysis from just the last few days that have the house flipping or too close to call. Democrats need nine votes to retake the chamber. The outcome depends a lot on whether Trump wins Texas again or hands the traditionally red state to Biden. 
We know Texas' big cities vote blue, but the suburbs are no longer the red bastions they were in the past. The battleground seats are those that came close to turning blue two years ago and where Democrat Beto O'Rourke outperformed Republican Sen. Ted Cruz.
The state's Latinx voters are also playing a bigger role this year. They are showing up in greater numbers than before and RA News' polling indicates they are leaning blue.
Retaking the majority in the Texas House would allow Democrats more influence on redistricting, education, health care and the budget process that is sure to be contentious due to revenue shortfalls caused by the pandemic.
Congress
Cornyn is on edge, but the polling has consistently shown him leading Hegar. Even more on edge are some of the state's GOP U.S. representatives. Texas Democrats are also hoping to flip as many as 10 congressional seats. Again, the suburbs are where this will happen, if they are successful. RA News polling shows that is also possible.
Turnout
Despite the pandemic and a string of legal challenges to voter accessibility, Texans have been turning out in numbers never seen before. There were 9.7 million votes cast during the early voting period that ended on Friday, surpassing the record turnout of about 9 million during the 2016 presidential election. There are predictions that total turnout will reach about 12 million, which would represent around 70% of the state's 16.9 million registered voters.
When Will We Know Results?
The counting of votes cast during early voting and mail-in ballots is already underway. Those results will be released once the polls close, leaving only the votes cast today and mail-in ballots that arrive by 5 p.m. tomorrow left to count, which means there should be a pretty good indication of where Texas stands by the time we all go to bed tonight.
What Do I Need to Vote?
A valid form of photo identification is required.
The seven forms of approved photo ID:
Texas Driver License issued by the Texas Department of Public Safety
Texas Election Identification Certificate issued by DPS
Texas Personal Identification Card issued by DPS
Texas Handgun License issued by DPS
United States Military Identification Card containing the person's photograph
United States Citizenship Certificate containing the person's photograph
United States Passport (book or card)
Voters who do not possess and cannot reasonably obtain one of the seven forms of approved photo ID may execute a Reasonable Impediment Declaration form, available to them at each polling location, and provide a supporting form of identification. In addition, certain voters may qualify for an exemption to presenting an acceptable form of photo identification or following the Reasonable Impediment Declaration procedure and present a copy or original of one of the following supporting forms of identification:
a government document that shows the voter's name and an address, including the voter's voter registration certificate
a current utility bill
a bank statement
a government check
a paycheck
a certified domestic (from a U.S. state or territory) birth certificate
a document confirming birth admissible in a court of law which establishes the voter's identity (which may include a foreign birth document).
Can I Still Vote in Person if I Requested a Mail Ballot?
If you requested a mail ballot and did not get it returned yet or it hasn't arrived, you still have the option of voting in person today. If you have the mail ballot, take it with you and hand it over when you check in. You will then be allowed to cast an in-person ballot. If you do not have the mail ballot to turn in, you will need to vote by provisional ballot. The poll workers will be able to explain that process.
What If I Am Disabled?
Curbside voting is available for those who are sick or disabled and unable to physically get themselves inside the polling location.