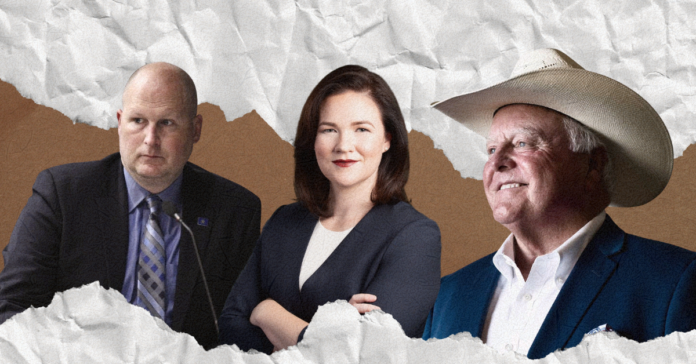 Last week, Texans for Vaccine Choice (TFVC) released their voter guide for candidates that signed their anti-vax pledge, among them were Ag. Commissioner Sid Miller, Alexandra Mealer, Republican candidate for Harris County Judge, and Rep. Tony Tinderholt.

TFVC was formed in 2015 in response to HB 2006, a bill that aimed to remove religious exemptions from vaccinations for students. They are dedicated to protecting medical freedom and vaccine choice rights so that Texans are safe from medical overreach.

Their voter guide promotes candidates and incumbents who have committed to prohibiting vaccine mandates: "I pledge to citizens of the state of Texas that I will vigorously work to prohibit all vaccine mandates in Texas including those imposed by both public and private businesses."

Amongst the anti-vaxxer candidates was Miller, who is up for re-election, against Democratic challenger Susan Hays for Texas Ag. Commissioner. So far, Hays has spent her campaign questioning Miller's ethics and pointing to his controversies. Which include spreading falsehoods on social media, making offensive remarks about immigrants, and the indictment on felony charges of theft and commercial bribery related to state hemp licenses of his top political aide.

Miller has not been afraid to be vocal when it comes to vaccine mandates. During the pandemic, he asked a state judge to void Texas Senate rules requiring Capitol visitors to obtain a negative test or show proof of vaccination. He also called for a fourth special legislative session to extend protections to Texas workers from COVID-19 requirements, who "became victims of excessive government overreach."

More recently, Miller has said he pushes sitting Republicans, including Abbott, further on issues like the transitioning of transgender children and outlawing vaccine requirements.

"Nobody holds people accountable like I do," he said. "No one else has political courage to do that."

Alongside Miller, one of the furthest-right Republicans in the chamber, Tony Tinderholt, was also amongst those who called for a special session to "permanently stop COVID-19 vaccine mandates" – the Representative is also on TFVC's voter guide.

Last week, Tinderholt announced he would be running for Texas House Speaker against fellow Republican Dade Phelan. In a statement, Tinderholt made it clear he would be running on his opposition to Democratic committee chairs.
"Will the priority legislation of the Republican Party of Texas receive a vote on the Texas House floor?" Tinderholt said. "The truth is, we have no idea with our current speaker in control."

Other incumbents and candidates mentioned in TFVC's guide are; Alexandra Mealer, Republican challenger for Harris County Judge, State Senator, Lois W. Kolkhorst, District 150 Rep. Valoree Swanson, and Julie Pickren, Republican candidate for District 7 State Board of Education.