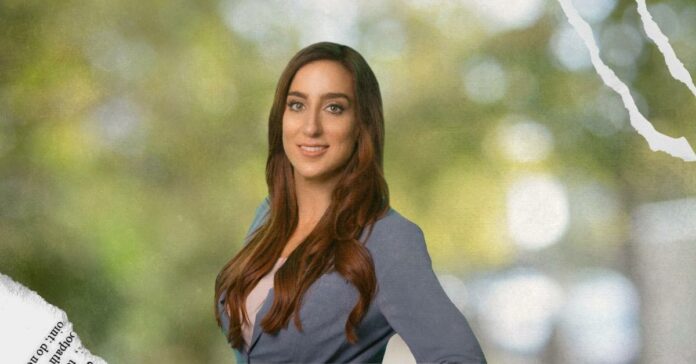 Oil and gas attorney Sarah Stogner, known for her unorthodox methods of campaigning, has announced her second run for a seat on the Texas Railroad Commission, but this time, she's breaking away from the Republican Party to run as a third-party candidate.

Stogner announced her campaign on Saturday during The Texas Tribune Festival. She
is running under the banner of the Forward Party, a centrist political group co-founded by former presidential candidate Andrew Yang. She becomes the first statewide candidate aligned with this party, as first reported by The Texas Tribune.

Stogner gained notoriety in 2022 with a campaign announcement where she starred semi-nude on top of an oil pumpjack. With a caption that said: "They said I needed money. I have other assets."
Her video gained her enough traction to continue her fight into a Republican runoff with incumbent Wayne Christian, whom she accused of corruption during the race. Christian won that race with 65% of the vote.

During her campaign, Stogner accused Christian of giving Texans "empty sound bites."

"We need someone with oilfield experience overseeing the industry who isn't bought and paid for," Stogner told The Texas Tribune.

Stogner reinforces these statements, and her departure from the Republican Party is rooted in her concerns about corruption within the Texas GOP. She expressed dismay at the response she received when she criticized the acquittal of Texas Attorney General Ken Paxton on social media.

"I posted on social media about the acquittal of [Texas Attorney General] Ken Paxton. Since I called out the corruption, some people responded that I must be a Democrat," Stogner said. "How sad is that? Like, there's nothing conservative about corruption."

Her decision to run for the Railroad Commission stems from her belief that the agency is falling short of its mission to regulate energy in a way that ensures the safety of Texans. She accused the current Commission Chair, Christi Craddick, of having a conflict of interest due to her family's financial ties to the oil and gas industry.

"The commission has one mission — to regulate energy in a way that keeps Texans safe," Stogner said. "But Commissioner Christi Craddick is overseeing it while also profiting off of oil deals. She's pocketing money from the very people she's supposed to be regulating."

Stogner pledged that if elected she would not introduce new regulations but would rather focus on ensuring that existing regulations are fair, affordable, and effective.

Since she is running with a new political party, Stogner needs a certain number of qualified voters' signatures to be on the ballot.