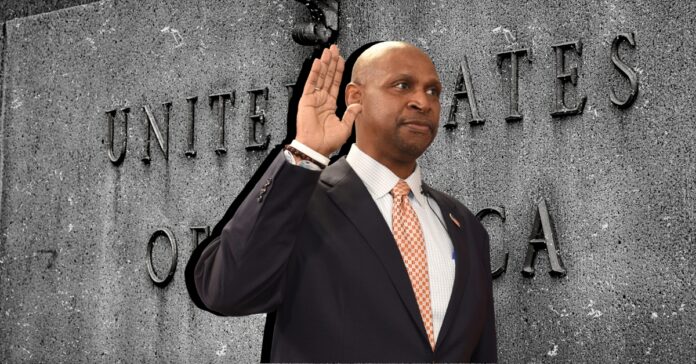 According to a postmortem report of the Harris County elections operations, the systems, methods, and personnel were inadequate to ensure a smooth election this past November. The report recommended that the system is in "immediate need of upgrades or replacements," per the county's Elections Administrator Cliff Tatum, who took office shortly before the Nov. 8 election.
For example, in Tatum's report, sent to county officials via email Tuesday, the 50-person elections help desk on Election Day received 1,600 calls for polling site support. Forty-six of those calls sought additional paper.
However, "this does not indicate that these [voting centers] ran out of paper and had turned voters away as a result" but "only that they required additional paper at some point on Election Day," the report says.
Tatum sent the report to all Harris County commissioners and election commission members, including County Judge Lina Hidalgo and Republican and Democrat party chairs. In the 54-page assessment, he says the investigation "has not yet revealed" whether, or how many of, the county's 782 polling sites had to turn voters away due to ballot paper shortages, saying the results were "inconclusive."
The report called for improved training of election workers, upgrading the communication system that tracks calls for assistance from polling locations, and addressing technical issues involving software upgrades and paper jams that caused much frustration on Election Day.
To correctly gauge the full scope of the ballot paper issues, Tatum said he could only rely on "anecdotal" information his office gathered by calling more than 700 presiding judges and alternate judges.
The reason? Because the county does not have an adequate tracking system — like other large counties in Texas and across the country.
Industry experts say that other counties adopted the tracking systems long ago. "I am really surprised, I will be honest, that [Tatum] doesn't have that. Most of the large jurisdictions we work with have something like this," said Jennifer Morrell, elections administration consultant and co-founder of the Elections Group.
"But I know there's been a lot of change in Harris County so there's definitely room for improvement there," she added.
By contrast, Dallas and Tarrant counties use a system to track problems at polling sites in real-time, which officials there say is essential to their operation, according to the Texas Tribune. The systems can be purchased for between $30,000 and $40,000 a year.
The report did cite some recent improvements made by the county – such as updated curriculum training sessions for election workers, mandating that they be four hours in length. It also broke out the sessions into smaller breakout groups to give the volunteer workers more hands-on practice with the new machines.
The elections office did train over 6,000 election judges and clerks for the November election cycle, with nearly 5,500 of them actively serving on Election Day.
Tatum's analysis of the election comes amid criticism, largely Republican-driven, including MAGA members of the public verbally harangued Tatum, who was brand new on the job, in the commissioners' court meetings immediately after the election, alleging a wild array of violations and election cheating.
Perhaps the most valid criticism came from a voting rights group that had to file a last-minute lawsuit to hold polls open one hour after regular hours to allow voters of color to cast their ballots following technical delays at several polling sites.