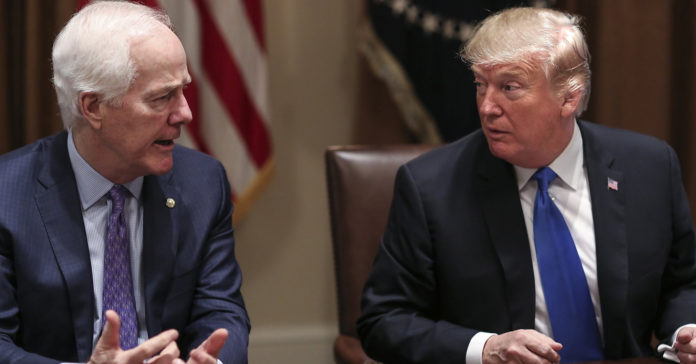 Ahead of the July primary runoff, Republican Sen. John Cornyn held a commanding lead over the two Democratic candidates competing to challenge him in November.
At the time, a poll showed that Cornyn held a 13-point lead over former Air Force helicopter pilot MJ Hegar and a 15-point lead over state Sen. Royce West of Dallas. West was hoping to channel the momentum of the Black Lives Matter protests in response to the death of George Floyd by Minneapolis police to defeat Hegar, the frontrunner in the race.
Besides help from national Democrats, Hegar also benefited from an unexpected assist from Cornyn, who meddled in the race by running TV ads attacking West as a "liberal politician."  The decision mimics similar efforts by the national Republicans to help eliminate Democrats' preferred candidate in key races across the country.
Hegar has proven to be a formidable opponent who has been able to reduce Cornyn's lead to single digits in recent polls. Despite his large fundraising advantage over Hegar of Round Rock, Cornyn faces political challenges that could jeopardize his re-election as well as the prospects of other Republican candidates.
"Cornyn has seen his most serious threat since he entered electoral politics not just from MJ Hegar but from changing demographics and shifting politics in Texas suburbs, all of which are turning Texas purple," said Brandon Rottinghaus, professor and Pauline Yelderman endowed chair of political science at the University of Houston.
Besides changing demographics in favor of Democrats, President Donald Trump's chokehold on the Republican party is impacting this year's election contests, resulting in Texas shifting from a red state to a swing state.
"Donald Trump is fully the reason why Cornyn is in political trouble," Rottinghaus said. "The president's lagging numbers and alienation of ethnic and racial minorities and women are crippling the Republican Party in Texas.
"But Trump is oddly the path to victory for Cornyn, too," Rottinghaus said. "Cornyn's political position is impossible — he can't afford to distance from Trump too much, but he can't afford to be too close to Trump."
Navigating that tightrope, Cornyn's efforts to grow bipartisan support have included a push to have Juneteenth, a holiday commemorating the end of slavery in the U.S., declared a national holiday. To further broaden his appeal to independent voters, he announced support for a bill that would retroactively provide COVID-19 stimulus checks to Texans in households that missed out earlier this year because one spouse is a foreign national or undocumented immigrant.
"This pandemic has hit all Texans hard, and we shouldn't make it harder by withholding recovery resources based on the status of a U.S. citizen's spouse," Cornyn said in a statement. "The intent of these recovery checks is to provide a lifeline to as many U.S. citizens in dire need of support as we could, and this bill will allow us to help more Texans while we continue to fight the coronavirus."
Also, Cornyn criticized the Senate's plan to go into recess until after a new coronavirus relief bill was passed.
Yet at the same time, Cornyn has steadfastly supported key Republican priorities. More often than not, Cornyn has been a loyal foot soldier of Trump, supporting the president's position on policies and decision-making 95 percent of the time.
As former Texas attorney general and former Texas Supreme Court justice, Cornyn has been the chief architect for development of  liability protections for businesses against pandemic-related lawsuits. Liability shields have been a top priority for Senate Majority Leader Mitch McConnell, who has said he wants a protection measure included in a new coronavirus relief package.
Critics, including union leaders and consumer advocates, claim that proposed legislation granting immunity from lawsuits leaves employees and customers without recourse for recovering lost wages, health care costs and other consequences of contracting the virus.
"As states gradually reopen their economies, frontline health care workers, small businesses and schools face a second pandemic of frivolous lawsuits threatening to bankrupt them," Cornyn said in a statement on social media. "This legislation would protect those acting in good faith from being sued into oblivion while ensuring bad actors who willingly put their patients, employees or customers in danger will still be held accountable."
During negotiations over a new coronavirus relief package, Cornyn has embraced the GOP's position and attacked Democratic leaders for not budging.
"Chuck Schumer is refusing to cooperate," Cornyn said in a statement on social media. "He and Nancy Pelolsi are demanding their $3.4 trillion, 1,800 page liberal wish list — or nothing."
Since issuing that statement, Schumer and Pelosi have offered to trim their proposed packaged to $2 trillion but negotiations between the two sides have broken down. As a result, Trump issued four executive orders aimed at delivering direct relief although the move may be outside his authority.
Hegar has fired back at Cornyn, calling him "a lapdog for Mitch McConnell and his special interest donors" on social media.
She also attacked Cornyn for disregarding the needs of unemployed Texans who face losing their homes.
"But instead of fighting for them, John Cornyn said expanded unemployment insurance was a mistake and spent months stalling relief," she also stated on social media.
Hegar has been the beneficiary of funding from the Democratic Senatorial Campaign Committee, which has made its first investment in a general election in Texas.
But Hegar, who lost a congressional race against Republican Rep. John Carter of Georgetown in 2018, remains the underdog in the race. Despite Cornyn's political baggage, his sizable campaign war chest and his popularity among conservative Republicans could propel him to another term.
"If Hegar's fundraising doesn't explode and fewer groups come to advertise in Texas on her behalf, Cornyn could escape the toughest election he's ever had," Rottinghaus said.