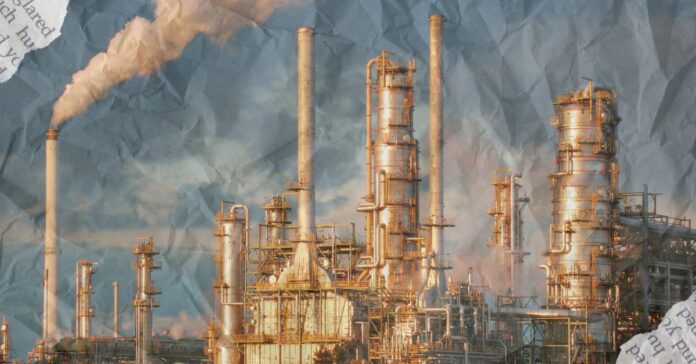 The Texas Senate will soon introduce a new bill designed to penalize insurers whose environmental, social, and corporate governance policies — known as ESG — are seen by the state GOP as a present and future threat to the state's oil and gas industry.
Last Wednesday, state Sen. Bryan Hughes, R-Mineola, said "Obviously, if you can't get money for your project and you can't get insurance for your project, that shuts it down." Speaking at an event held by the arch-conservative Texas Public Policy Foundation (TPPF), Hughes added "We're gonna make sure that everywhere we see them on attack, we're pushing back. We're pushing back hard."
"If they're gonna mess with money that belongs to Texas retirees and undermine the very Texas economy, we're gonna teach them some manners," Hughes said.
Hughes is the chair of the Senate's state affairs committee and hosted the high-profile hearing in December, where executives from BlackRock and other financial firms were questioned by Texas Comptroller Glenn Hegar, who created a "blacklist" of companies whose ESG policies are believed by Republicans to negatively impact the energy sector, thereby endangering the state economy.
Hegar, who created the list last year that includes companies seen as "boycotting" financing fossil fuel energy projects, said during the event that soon "there will be a new addition."
Lawmakers have already targeted lending institutions for their anti-ESG policies in Senate Bill 13 — designed by Jason Isaac, a former state representative now with the TPPF — which protects the state energy industry from green energy encroachment of traditional energy in investment portfolios by funds and asset managers. The law, went into effect in September 2021, when Gov. Greg Abbott signed the legislation.
Under SB 13, Texas state investments such as state pension funds and public school endowments, are prohibited from investing in companies that "boycott" the fossil fuel industry, and denies all governmental entities in the state from entering into contracts valued over $100,000, unless the contracting company has no ESG policies in place during the term of the contract.
Following the passage of SB 13, five of the largest municipal bond underwriters — JPMorgan Chase, Goldman Sachs, Citigroup, Bank of America, and Fidelity — have exited the state market.
"It's not trying to punish," Hegar said. It's more about "trying to change the dialogue and hopefully open people's eyes…We're having a change in the conversation, and I think that's important," Hegar told the pro-oil and gas audience. "And I think Texas is the one that initiated that conversation — really forced that conversation to happen."
Despite the phobia on the right, the Texas energy industry is thriving. Natural gas production hit an all-time high last year, with volumes up by 11.6% more than in 2019. The pandemic negatively impacted almost all industries, yet Texas oil production in December was the second-highest on record, behind only the 2019 peak, according to the Dallas Morning News.
Thus, tax revenue from oil and gas production topped $10.8 billion for Texas last year, more than double the total for fiscal 2019, according to the comptroller's office.
But Isaac's point of view regarding ESG borders on internet conspiracy theories. "I refer to it as the China ESG agenda, because I believe that's what it is," Isaac quipped. Isaac said he thinks environmental regulation and pro-green energy policies are used to target energy producers in America, and that benefits foreign energy producers such as China.
Isaac tweeted last Thanksgiving Day that "Today, I'm thankful to live a high-carbon lifestyle and wish the rest of the world could too. Energy poverty = poverty. #decarbonization is dangerous and deadly."
What The State GOP "Blacklisting" Means to Texans
The trouble began with Senate Bill Bill 19, the other anti-ESG law passed by Republicans. The law bars government entities in the state from contracting with companies that "discriminate" against firearms entities. This immediately began to affect Texas's $50-billion-a-year municipal-bond market after the law targeted banks for their gun policies.
These laws are all part of a nationwide Republican backlash against what they continue to paint with the broad brush of "woke" policies — which have nothing to do with guns or energy — and now, that very legislation costs Texans more in taxes.
And the people of one Texas city will soon find out about the costs. The city of Anna, Texas paid more to borrow money on two bond sales totaling almost $100 million when it rejected Citigroup Inc. — who offered the most competitive bid — because of the Republican-authored state law that blackballs financial firms who are pro-gun safety.
As a result of the state's stance against ESG investors — despite its perfect AAA credit rating — is paying 19 basis points more in yield than AA-rated California on routine borrowings, according to Bloomberg. This is compared to an average 0.38% fee the banks charged which was only 11 basis points, or 0.11 percentage points.
This means the state's municipal borrowers are paying as much as $532 million more in borrowing costs, according to a recent report. Daniel Garrett, a finance professor at the University of Pennsylvania Wharton School of Business, and Ivan Ivanov, a principal economist at the Federal Reserve, collaborated on the paper.
Garrett said, "To see even the biggest issuers affected by this sort of shock was very surprising." His paper examined bond sales from September 2021 through April 2022.
What The TPPF Does And How It Impacts Texans
James Leininger, founded the TPPF in 1989 to promote charter schools and the voucher system and now embraces other conservative causes, such as eliminating property taxes, criminal justice reform, stopping immigration, and enhancing border security.
The group's efforts are heavily funded by two West Texas oil and gas billionaires Tim Dunn and Farris Wilks, who both made fortunes in fracking in the oil and gas industry, and use their enormous influence over the Texas Republican Party to continue to push their extremely conservative agenda.
While Texas has been a red state for decades, Dunn and Wilks are viewed by observers as two of the largest drivers of Texas's sharp shift to the right in recent years. According to CNN, Dunn and his wife Terri have given more than $18 million to right-wing candidates and political action committees, and Wilks and his wife Jo Ann have given more than $11 million as well.
Recently, the TPPF bankrolled a lawsuit to block the nation's first major offshore wind farm off the Massachusetts coast, the Vineyard Wind project. The Texas group produced ads on behalf of regional fishing companies in the northeast challenging federal permits, and their video featured a bearded fisherman with a distinct New England accent.
The group's Freedom Project features the initiative called Life: Powered, which is an effort to "explain the forgotten moral case for fossil fuels" by rejecting the global scientific consensus on climate change. Their express goal in such efforts — is to influence campaigns, legal action, and craft legislation to promote fossil fuels — and stall the American transition toward renewable energy.
According to public tax filings, the TPPF is heavily funded directly by companies like coal giant Peabody Energy, Exxon Mobil, and Chevron.
"With YouTube videos, regular appearances on Fox and Friends, and social media campaigns, the group's executives have sought to convince lawmakers and the public that a transition away from oil, gas and coal would harm Americans," according to a recent New York Times article.