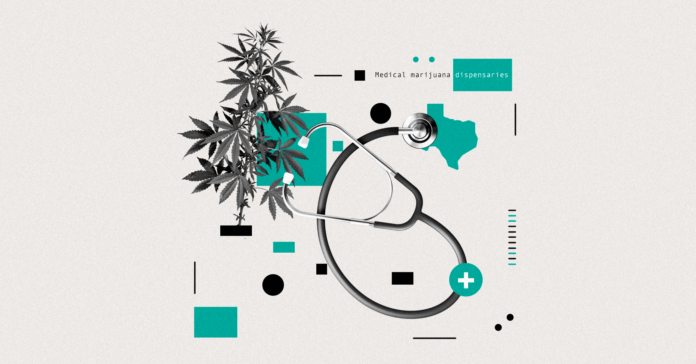 If you're one of more than a million Texans who qualify for a medical marijuana prescription to help with myriad diseases and conditions, the pandemic has only tightened your options for where you can find help. 
Compassionate Cultivation is one of three licensed medical marijuana dispensaries still open during the pandemic. Surterra Wellness, which has multiple locations in major cities across the state, is offering medical cannabis delivery. The third licensed dispensary is Cansortium Texas in Austin.
Texas has had a long, complicated history with medical marijuana, but medical cannabis can have a huge affect on the quality of life of some Texans — like those who are struggling with incurable neurodegenerative diseases.
Medically prescribed cannabis can — now officially — help with the 100 conditions and diseases deemed qualifying by the Department of State Health Services through House Bill 3703, which was passed this past December. Some of the conditions include epilepsy, autism, Lou Gehrig's disease, Alzheimer's, chronic traumatic encephalopathy, multiple sclerosis and Parkinson's disease.
What should you do if you're a potential patient?
If you're suffering from one of these conditions or diseases, the next step is contacting a dispensary like Compassionate Cultivation and meeting with a doctor who can determine that the risk of low-THC cannabis is reasonable in light of the potential benefit for you.  Potential patients can look for a doctor or check if their doctor is part of the Compassionate Use Registry here.
As of just a few years ago, fewer than 20 doctors across the state were registered with the Texas Department of Public Safety to prescribe medical marijuana. 
A prescription for medical marijuana is currently allowed in inhaler and cannabis oil (with less than 0.5% THC) form; it is not able to be smoked. There is no age limit to qualify as a medical cannabis patient in Texas. But patients under the age of 18 may require permission from a legal guardian.
Your doctor will register your diagnosis and treatment plan with the state's Compassionate Use Registry database, which then allows patients and their legal guardians to be exempt from certain state laws prohibiting the possession of cannabis in Texas.
Compassionate Cultivation said it is maintaining "its ongoing dedication to its patients statewide by providing them with needed medication during the current pandemic." Dispensaries were included as essential businesses during the statewide shutdown.
"It's important now more than ever that our patients continue to have access to this life-changing medicine," said Morris Denton, Compassionate Cultivation's CEO. "We know that many of our patients have compromised immune systems, and we're going to great lengths to ensure we can get our medicine into the hands of our patients quickly and safely and without compromise."
Texas' confusing history with cannabis
When Texas passed the Texas Compassionate Use Act in 2015, allowing medical marijuana to be legally prescribed by approved providers, it should have made way for many businesses to support the more than a million Texans who have a qualifying condition and could greatly benefit from it.
But it's just made things more confusing. 
In 2019, Texas lawmakers legalized some forms of the cannabis plant but not others.
This is important to note in light of recreational marijuana use in Texas still being illegal (although hemp and CBD products are not). Unlike many states that have fully or partially decriminalized marijuana-related offenses, in Texas, state law allows prosecutors to press criminal charges, typically misdemeanors for small amounts, against recreational marijuana users. They can carry fines of more than $1,000 and jail time.
So some of the confusion comes from the fact that marijuana and hemp are hard to tell apart by look or smell because they both come from the cannabis plant. The difference involves how much of the psychoactive compound THC, or tetrahydrocannabinol, they contain. But when it's hard to tell different parts of the cannabis plant apart just by sight or smell, it can be hard to know how to prosecute — if at all. Many Texas counties have come up with mixed decisions on how to handle marijuana related offenses.
Marijuana is now classified as a cannabis plant or its derivatives with a THC concentration of more than 0.3%. If the substance has less THC, it's considered hemp.
Cannabidiol, or CBD, a nonpsychoactive compound of cannabis, is also legal in Texas as of 2019. Businesses selling CBD products have garnered great reviews and increased exponentially in popularity. Enthusiasts claim it can support healthy sleep, alleviate joint pain, and lessen mental effects of anxiety or depression. In the wake of its popularity and new accessibility (even from home), many boutique and entrepreneurial or online subscription-style CBD businesses have popped up.
For true marijuana — illegal recreationally but available in medical prescription form — only the current three dispensaries operating were granted licenses through the state process.
And then the state also abruptly halted the dispensary application process last fall. It's been an issue shrouded in mystery ever since — and there are still very few dispensaries in Texas months later, which means people have limited options in a time of pandemic. 
What's next in Texas?
The lack of options weighs heavily on the minds of eligible Texans and raises questions about the state's response over the last five years.
These patients aren't alone in their worries — this issue is expected to be part of the discussion during the 2021 legislative session, and state senators like Roland Gutierrez (D-San Antonio) are committed to fighting hard to expand — and clarify — the medical marijuana program in Texas. 
Gutierrez has said that he believes tax revenue generated from medical marijuana could be put to use in some of the state's other lacking areas like education funding. In addition to backing Gov. Greg Abbott in the legalization of hemp and CBD products, he also supports full marijuana legalization through a proposal called the "REAL Cannabis Legalization Act."
The act would seek to establish a system similar to the one already used in liquor, to manufacture, distribute and tax adult-use cannabis in the state. It would allow adults over 21 to buy cannabis from licensed retailers and grow up to 12 plants in their home for their own use and consumption.
"Every state that has done this has seen a reduction in opioid deaths [and] a reduction in teenage usage," Gutierrez told News Radio WOAI in San Antonio. "We allow cities to regulate the delivery method, things like guaranteeing that people can't smoke outside, but they can smoke in their own home all they want."
Gutierrez also brings up that as many other states continue to decriminalize marijuana, even in small steps, they could also risk leaving Texas further behind in criminal justice reforms and medical advancement — especially considering the potential health benefits for patients with chronic pain.  
"The libertarians of the Republican Party agree with me. They want full legalized cannabis," Gutierrez said in an interview with the San Antonio Current. "They don't want the government in their backyard. They want to be able to take this plant that heals them and do what they will with it. Every state around us has legal cannabis."