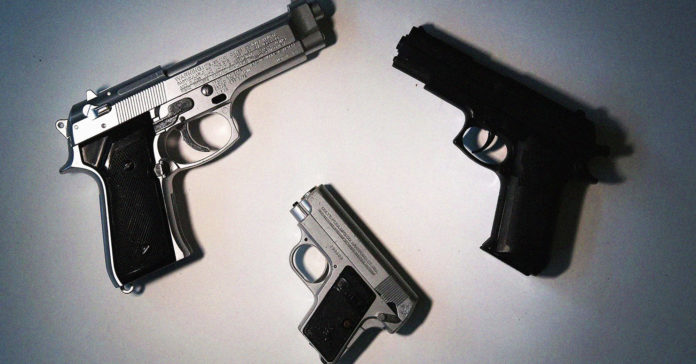 On Aug. 3, 4 and 7, Transportation Security Administration officers found loaded handguns in carry-on bags at El Paso International Airport. A week later, on Friday, Aug. 14, three loaded firearms were confiscated from travelers' carry-on luggage at Dallas Love Field. Then on Sunday, Aug.16, a TSA officer arrested a man for having a gun inside Austin's Bergstrom International Airport. In all seven instances, the guns were loaded.
Reform Austin recently reported that gun and ammunition sales have skyrocketed in Texas during the pandemic, and now there is data showing more travelers are trying to take their guns with them on planes.
Transportation Security Administration officers detected firearms in carry-on bags at a rate three times higher in July compared with the same month in 2019. This is despite passenger volume being down about 75% from last year due to the pandemic.
There were 15.3 guns per million people last month compared with 5.1 guns per million people screened during July 2019.
TSA Administrator David Pekoske said screeners are already working "diligently to ensure employees and passengers are safe and secure" while traveling during the pandemic. "As hard as we are working to mitigate other risks at this time, no one should be introducing new ones," he said.
"Even more concerning is that 80 percent of the firearms coming into the checkpoint are loaded and it's just an accident waiting to happen," Pekoske said. "Travelers need to know that if they bring a gun to the security checkpoint, regardless of whether it is in a handbag, knapsack, roller-bag or strapped to their belt, it will be an inconvenient and expensive mistake on their part."
Lt. Gov. Dan Patrick has interpreted the increased gun sales as an indication that President Donald Trump will win in November. Others believe there are other factors at work.
Robert Spitzer — a professor of political science at the State University of New York College at Cortland and the author of five books on gun policy — told the New York Times the increase in sales is due to rising fear among Americans because of virus anxiety or to people's desires to make a political statement.
"While most Americans don't seek security by buying guns, some do, and they may well be more disposed therefore to carry them around," he said. "Some of that carrying extends to airports where clearly some people don't think about the fact that they shouldn't be carrying."
The potential federal civil penalty for an unloaded firearm starts at $2,050, and it starts at $4,100 for a loaded gun. The penalty can go up to the maximum of $13,669 per violation, depending on the circumstances.
In addition to financial civil penalties, individuals who violate rules regarding traveling with firearms will have their trusted traveler status and TSA PreCheck expedited screening benefits revoked for a period of time. The duration of the disqualification will depend upon the seriousness of the offense and if there is a history of violations.
Passengers are permitted to travel with firearms in checked baggage, if they are properly packaged and declared at check-in with the airline. Firearms must be unloaded, packed in a hard-sided case, locked, and packed separately from ammunition.
Nationwide last year, 4,432 firearms were discovered in carry-on bags at checkpoints across the country, averaging about 12.1 firearms per day, approximately a 5% increase nationally in firearm discoveries from the total of 4,239 detected in 2018. Eighty-seven percent of firearms detected at checkpoints last year were loaded.
Here are the TSA's gun seizure numbers for Texas' major airports.
| | | |
| --- | --- | --- |
| Texas Airports | 2019 (Totals) | 2020 YTD |
| Austin-Bergstrom Airport – AUS | 78 | 28 |
| Dallas Love Field Airport – DAL | 102 | 38 |
| Dallas Fort Worth International Airport – DFW | 218 | 93 |
| El Paso Int. Airport – ELP | 17 | 10 |
| Houston Hobby Airport – HOU | 68 | 26 |
| George Bush Intercontinental – IAH | 138 | 65 |
| San Antonio Int. Airport – SAT | 60 | 25 |