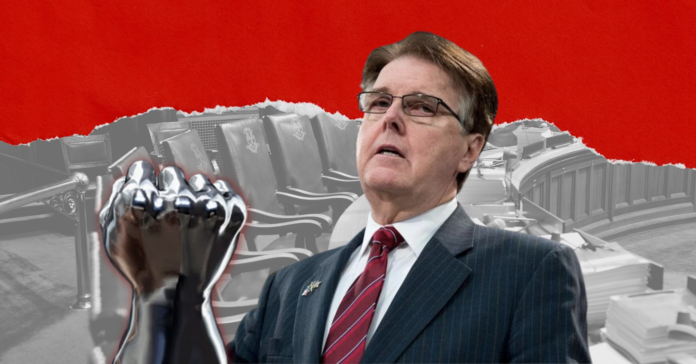 Lt. Gov. Dan Patrick, who has controlled the Texas State Senate since 2014, has frequently battled other Texas Republicans, including Gov. Greg Abbott and House Speaker Dade Phelan. He has also run roughshod over many state senators, from both parties.
He has shown that it's his way or the highway — by redrawing districts, endorsing primary opponents, and denying committee positions — to any senators who don't support his agenda, regardless of party, stripping them of leadership roles.
He demands loyalty from the increasingly conservative Republican caucus in the Senate, making it clear he won't tolerate dissent. He has a long history of conflict, rising to the level of acrimony, with other Republican state leaders.
He has repeatedly asked Abbott to call special legislative sessions for his unfinished agenda items, trying to force the governor's and speaker's action on far-right social positions — like which restrooms transgender people can use, or political ones like additional audits to the state's 2020 election results — even offering a million dollar bounty for evidence of voter fraud — but the effort backfired when a Republican was convicted of illegal voting.
"He's the undefeated heavyweight champion," Bill Miller, veteran Texas lobbyist told the Texas Tribune. "He is absolutely the strongest [lieutenant governor] that's ever been and he's every bit as strong as he's reputed to be, probably more so."
And his power is growing — backed by many ultra-right figures with deep pockets. Tim Dunn and Farris Wilks, both Patrick supporters — made fortunes in the oil and gas industry. They wield outsized influence in the state, thanks to lax campaign laws. Texas is one of just 10 states that allow individuals to make unlimited contributions to state political candidates.
Empower Texans, a political action committee the two founded and largely funded, has launched attacks on public schools, including "critical race theory," as part of their ultimate agenda to undermine trust in public education, according to experts interviewed by the Texas Observer.
"They're effectively investing their money and they're moving the needle on policy in Austin," said Scott Braddock, the editor of Quorum Report covering the state legislature, referring to Dunn and Wilks. "These are extreme people investing a lot of money in our politics to reshape Texas, such that it matches up with their vision."
They have not only helped the GOP to maintain control over the state's political institutions, but it has allowed these two men to have more influence than they might have in a regulated state. By making enormous contributions, they work through Patrick to push Texas further to the right.
"They really believe that they've been given a mandate by God to take dominion over society," said a former theological ally of the two men, Dorothy Burton. "The goal is to tear up, tear down public education to nothing and rebuild it," added Burton "and rebuild it the way God intended education to be."
And, just like Patrick, critics of the duo, and even some former associates, say that Dunn and Wilks also demand loyalty, and have donated money to primary candidates to take out the lawmakers that aren't towing their ultra-conservative line.
As a result, Patrick, Dunn, and Wilks have backed numerous right-wing challengers to run against any opposition to their shared agenda. Together they are shaping Texas into what ten years ago was unthinkable — an even more conservative state — perhaps the most ruby red in the nation.
Kel Seliger, a longtime Republican state senator from Amarillo has clashed with the pair, eventually breaking with them on private-school vouchers. He said their influence has made Austin feel a little like Moscow.
"It is a Russian-style oligarchy, pure and simple," Seliger said. "Really, really wealthy people who are willing to spend a lot of money to get policy made the way they want it – and they get it.
That's the law of the jungle now in Texas," Seliger said. "The majority of Republican Senate members just dance to whatever tune Tim Dunn wants to play."
And he's not alone. Former Republican Sen. Bob Deuell said, "They want to destroy the public school system as we know it."
Patrick has had Senate rules changed to allow passage of his agenda items, going back to 2015, when he lowered the threshold from two-thirds to three-fifths, allowing the Republicans to bring bills to the floor without support from any Democrats.
And he has forced redistricting measures to gain back seats lost to Democrats. After former Sen. Pete Flores lost his San Antonio-area seat to a Democrat in 2020, Patrick's efforts made the 2022 race more favorable for Flores. Patrick immediately endorsed Flores for the race and asked former president Trump to do the same, but he lost to fellow Republican Paul Reyes.
As evidence of Patrick's retributive nature, following the Robb Elementary school massacre, he stripped State Sen. Roland Gutierrez, a Democrat who represents Uvalde, of a seat on a special legislative committee designed to make legislative recommendations in response to the Uvalde shooting. "I do consider it a slap in the face to the people of Uvalde," said Gutierrez, a vocal Democratic advocate of gun safety measures. "They didn't have their representative there."
Patrick, who holds a near-ironclad control over what bills make it to the floor for a vote. said he will devote much of the Senate's focus next year to education, including a parental rights bill that advocates criticize as a guise to push private school vouchers, in addition to the effort to fix the state's suspect power grid. And of course, he wants to provide more funding for further investment in border security.
He is also putting a big emphasis on property tax relief. He wants to give back part of the $27 billion budget surplus to Texans. "When you have this kind of money, you've got to get it back to the taxpayers," he said. "We have an extraordinary opportunity, unlike we have never had before, to chart the future of the state of Texas, and create a vision," Patrick said.
And after the tragedy in Uvalde, Republicans pushed for more mental health resources in the state instead of passing stricter gun legislation. Patrick now says he wants to build several new mental health hospitals across the state.
However, another item on his 21-point plan for the next legislative session is to create a mandatory minimum sentence of 10 years for anyone who commits a crime with a gun, rather than try to regulate the nearly unfettered access to guns in the state.
But he has also called for an end to tenure at state universities and opening up the Public University Fund to more state colleges. "I will not stand by and let looney Marxist UT professors poison the minds of young students with Critical Race Theory," he tweeted in February. "We banned it in publicly funded K-12 and we will ban it in publicly funded higher ed."
Ending tenure for purely political reasons would be a potential disadvantage to education and economic growth in the state. The best and brightest minds who have been coming to Texas many research institutes would pursue opportunities elsewhere. And the economy will be affected as well, as more and more regressive legislative actions make the state a less attractive place to live and work.
Patrick also floated support for a new endowment to support large public universities across the state besides the University of Texas System and Texas A&M University System, which have access to a multibillion-dollar endowment known as the Permanent University Fund.
Patrick's ascent to statewide power broker has been somewhat unlikely. Born Dannie Goeb in Baltimore in 1950, he started using the name Patrick in the late 1970s as a TV sports broadcaster and ultimately reinvented himself in the 1990s as a conservative shock jock radio host.
While he was not as bombastic as Alex Jones, he once got a vasectomy live on the air. Like his idol Donald Trump, he learned how to use his skills as an entertainer in politics.
Patrick, now 71, entered the Senate in 2007 as a disruptive outsider and thorn in the side of the chamber's leaders. He became a darling of the Tea Party, and toppled the GOP lieutenant governor from his party, David Dewhurst, in 2014.