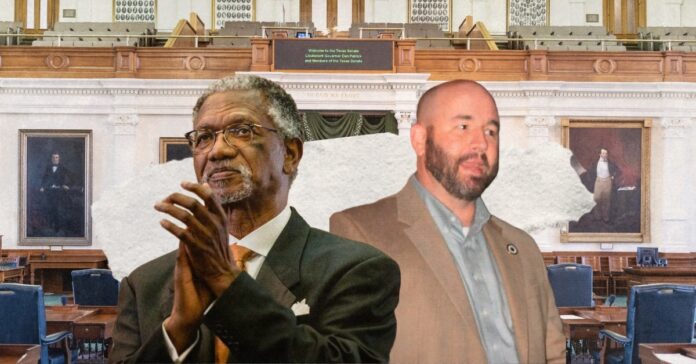 The Texas education landscape finds itself at a pivotal crossroads as a proposed voucher bill, SB8 (CSSB 8), promises dramatic changes and sets off a fierce debate among lawmakers and education stakeholders. This bill, introduced by the Senate, aims to replace the high-stakes STAAR test with a new testing regime and provide families with education savings accounts to access private school tuition.
For weeks, the Republican Party's efforts to promote school choice have faced uncertainty due to opposition from rural Republicans in the House. Earlier in the session, these lawmakers took a symbolic vote against the policy when they voted in favor of the 'Herrero Amendment.' Could this impromptu meeting to vote out SB8 mean Republicans are confident about their support for the cause?
SB8 (CSSB 8), which would give qualifying families at least $7,500 to spend on private school tuition, has been modified by the House and is fairly different from the GOP-led Senate version passed last month. The House version would open up education savings accounts to more children while also eliminating language critics equate to Florida's 'Don't Say Gay' policies. In addition, the House offered a better sweetener than the Senate: phasing out the STAAR test.
It is unclear in which direction the vote could sway since the Texas House Education Committee was proving to be a difficult hurdle for Gov. Greg Abbott's proposed voucher program. It is strongly opposed by five members: Reps. Alma Allen, D-Houston; James Talarico, D-Round Rock; Gina Hinojosa, D-Austin; Ken King, R-Canadian; and Steve Allison, R-San Antonio.
Only two members need to dissent in order to potentially prevent the voucher legislation from passing through the committee.
Rep. Harold Dutton, D-Houston, hasn't had a clear stance on vouchers up to this point; however, he was a fierce supporter of the Houston Independent School District takeover by the state, authoring the legislation that caused the takeover in the first place—going against his party's wishes.
"I remember something my mother told me: that sometimes, right, you will have to stand by yourself. That you won't be able to stand with a group. So today, I stand by myself in hopes that somehow we can change the dynamics of these kids that I know need all the help they can get."
According to SB8 (CSSB 8), students would qualify for an ESA if they attend a public school deemed struggling by the TEA, which gives campuses A through F grades based on academic performance.
Currently, in HISD there are 105 schools that have a grade of D to F, meaning thousands of children at these schools are eligible for an ESA. How would a HISD takeover work if parents and their children leave? How will the state give "kids all the help they can get" if they continuously lose money because of students leaving for private schools? Dutton's plan to save HISD's failing schools would backfire if vouchers pass.

The size of the education savings account starts at $7,500. However, kids who qualify for free or reduced lunch could receive $9,000 to spend on private school tuition, tutoring, transportation, or other educational expenses. According to The Dallas Morning News, at least 3.5 million Texas children meet those standards.
The Legislative Budget Board acknowledges that schools will lose funding due to the expected loss of students (amounting to $231 million for 25,000 students). They estimate that by 2028, the number of students lost will grow to 42,000, with a cost of $1 billion per year.
Rep. Cody Harris, a Palestine Republican who "fights for our conservative rural values," had been viewed as a swing vote until yesterday when he announced his support for the proposal to help kids he described as trapped in failing schools.
"The truth is, my district is doing things very well. But for those kids who are truly trapped, I think they deserve the chance to go somewhere else," he said.
However, the latest version of SB8 actually eliminates a financial cushion that would have softened the blow on rural schools if they start to lose students. The Senate had proposed giving districts with fewer than 20,000 students $10,000 for every student who leaves with an ESA. Instead, the House offered to phase out the STAAR test and replace it with a new testing regime by 2027-2028.
Harris's rural district could also stand to lose if vouchers are passed. In a state where schools are funded with an Average Daily Attendance (ADA) method, every day a child misses school costs the district the per capita funding allotment ($6,160), meaning thousands of dollars lost per year.
Rural superintendents are concerned that the loss of funding if students leave the district for private schools could be devastating. Texas is home to the most rural students in the nation, and in most cases, public schools in rural areas serve as a hub for employment, while private schools are scarce in these areas.
Not only will rural kids probably miss out, but it is also likely that low-income minorities will still not be able to afford their local private school—even with a voucher or ESA.
The House Public Education Committee, led by Rep. Brad Buckley, R-Salado, is expected to vote on the bill today, according to the Texas School Alliance.