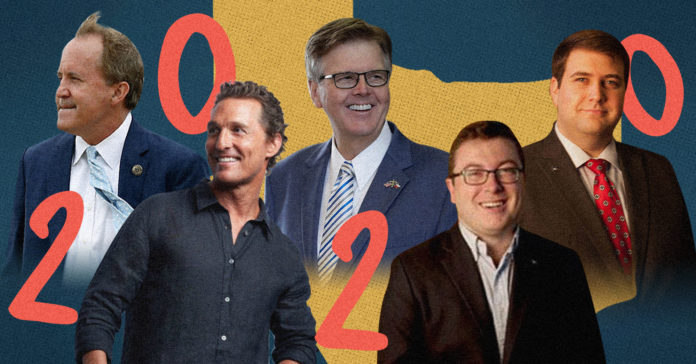 The year 2020 will undoubtedly go down in history as one of the worst. And this year with a global pandemic and a fractured economy, the spotlight shone hard and bright on Texas politics for the best or for the worst.
Here, in no particular order, is a list of Texas' biggest political stories in 2020.
No Country for Old Men
This year, Texas Lt. Gov. Dan Patrick suggested your grandparents should be willing to die to protect the fate of the country's economy. In an interview with Fox News, Patrick said that "lots" of grandparents are willing to die in the COVID-19 pandemic to ensure a better economy for their grandchildren.
Like many politicians before him, Dan Patrick asked not what your country can do for you, he asked you to risk your grandparents' lives for the country's economy.
The Allegations are Coming from Inside the Office…
It wouldn't be Texas politics without criminal allegations, whistleblowers, and an alleged affair.
According to allegations made by eight of his top aides, Texas Attorney General Ken Paxton conducted an extramarital affair with a woman he later recommended for a job with a wealthy donor, Nate Paul.
Now, the FBI is investigating the allegations that Paxton illegally used the power of his office to benefit a political donor.
Alright, Alright, Alright… Governor.
Was it political aspiration or shameless self-promotion?
Briefly, while promoting his new book the Texas actor, Matthew McConaughey toyed with the possibility of running for Governor of Texas… and he seemed to have the popular vote.
The Phantom Candidate
Longtime State Representative Harold Dutton was pushed into a runoff…by a candidate that does not exist. When a candidate by the name Natasha Ruiz received 20 percent of the vote despite having never been seen or heard from, many suspected foul play.
Neither the number nor the address listed on the filing application belongs to a Natasha Ruiz. Theories behind her presence on the ballot, or lack thereof, continue.
All this still begs the question: Will an investigation reveal the truth about mystery candidate Natasha Ruiz?
Is This Thing On?
Empower Texans accidentally released the outtakes from a podcast in which the organization's vice president, Cary Cheshire, and general counsel, Tony McDonald, were caught mocking Gov. Greg Abbott for his disability. 
Big yikes.
The One the Simpsons Predicted
Almost as if it were scripted, in the head of the coronavirus pandemic this year, Austin Mayor Steve Adler told Texans to "stay home" and take precautions to prevent the spread of COVID-19… while on vacation at the beach in Cabo San Lucas, Mexico.
In retrospect, the line "This is not the time to relax" may have been a mistake.
The Simpsons seem to have predicted Mayor Steve Adler's goof.
Pardon Me…
So nice he made the list twice.
Facing a bribery allegation and criminal fraud charges, Texas Attorney General Ken Paxton led an attempt to invalidate the votes of four battleground states that won Joe Biden the election.
Paxton brought a lawsuit against Georgia, Michigan, Pennsylvania, and Wisconsin claiming that the battleground states ignored federal and state election laws and that those state legislators should pick their own elector.
While several state officials called it a "publicity stunt" many more have speculated that this lawsuit is Paxton angling for a presidential pardon.