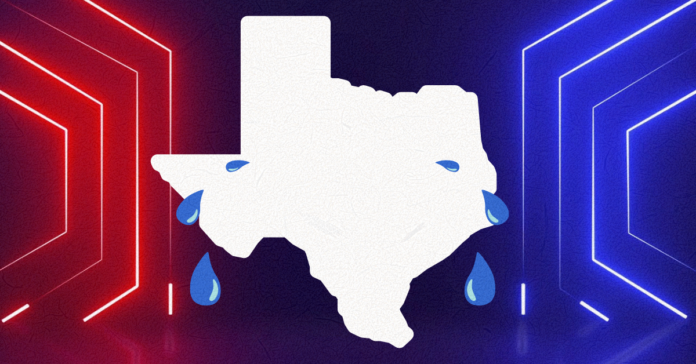 State Republicans narrowly expanded their legislative majorities in the Texas House and Senate this midterm election, but fell short in taking many of the races they targeted to flip. Out-of-state contributions came in heavy in the late stages of the races, especially those in South Texas. But in the end, much of the so-called blue spine, a heavily Democratic stronghold running through the center part of the state, held.
U.S. Rep. Vicente Gonzalez, D-McAllen, told supporters Tuesday in Brownsville, "They're trying to buy elections in South Texas with money from outside of here, spending extraordinary amounts of money to try to turn things," and he cited contributions from large donors in the deep south in states like Alabama and Mississippi.
In the South Texas House District 37 that includes Brownsville, Republican Janie Lopez appears to have won over Democrat Luis Villareal Jr. by 3.7 points. State Rep-elect Lopez would be the first Latina Republican to represent the Rio Grande Valley in the House.
This district was previously left open after State Rep. Alex Dominguez (D-Brownsville) opted to run for and lost in the Senate District 27 primary. His decision came after State Rep. J.M. Lozano (R-Robstown) introduced a last-minute amendment during redistricting on behalf of Gov. Abbott to make an RGV House District more favorable for Republicans. Biden carried the redrawn district by 2.1 points.
In southern Bexar County, traditionally dominated by Democrats, Republican incumbent John Lujan prevailed over Democrat Frank Ramirez, former San Antonio City Council member. This is the first time Lujan will be serving for a full term after he won two special elections for the seat in 2021 and 2016.
Republicans also poured large sums of money into the race resulting in Lujan outraising Ramirez almost five to one in the latest campaign finance reports.
Other high profile races included the Collin County House District 70 left open by retiring state Rep. Scott Sanford (R-McKinney) that was made more favorable to Democrats. Despite more than a million raised and spent in the race on the GOP side, former legislative aide and Democrat Mihaela Plesa garnered a narrow victory. Republican Jamee Jolly conceded early Wednesday.
Another district where Democrats flipped a seat, in part thanks to redistricting, was House District 92 in Tarrant County. Left open by retiring state Rep. Jeff Cason, who was another casualty of redistricting in order to shore up the Republican delegation in Tarrant County, Democrat Salman Bhojani cruised to a victory Tuesday.
Republicans flipped another two seats, largely thanks to redistricting, for Denton County House District 65 and Williamson County House District 52. Both were open seats as state Rep. Michelle Beckley (D-Carrollton) sought higher office and lost and state Rep. James Talarico (D-Round Rock) moved to Austin to run for an open seat left by state Rep. Celia Israel in House District 50.
Former school board member and Republican Kronda Thimesch won House District 65 while former Senate staffer and Republican Caroline Harris won House District 52.
But in other areas, incumbent Democrat Eddie Morales fended off a challenge from Katherine Parker in House District 74, which includes Eagle Pass and much of the Texas-Mexico border.
The GOP set its sights on flipping three congressional seats in the area, but two of the Democrats challenged won despite high-profile campaign events and large amounts of dollars spent in the state. One such recent event featured former president Trump.
But following the election, Texas Democratic Party Chair Gilberto Hinojosa tweeted "Republicans in Austin and D.C. should understand that if they could barely eke out this one win here, they should probably pack up their bags and get the hell out of our region."
Currently, the GOP holds the edge in the Texas House 86 to 64 with a total of 150 total seats.
In the Texas Senate, Republicans extended their majority by one when state Rep. Phil King (R-Weatherford) won Senate District 10, formerly held by State Sen. Beverly Powell (D-Burleson).
King's victory means that Republicans hold at least 19 of the Senate's 31 seats.
Powell filed for re-election, but withdrew from the race following a court decision against striking down the new district lines, which she claimed was unfairly expanded. Previously, the district was entirely in Tarrant County but was spread west and south in last year's GOP redistricting process.
Texas Senate District 27 was another target for state Republicans looking to prove their party resonance with Hispanics in the Rio Grande Valley Region. The seat was left open by the retirement of Sen. Eddie Lucio Jr. (D-Brownsville), a close ally of Lt. Governor Dan Patrick.
Despite late investment and an endorsement from the Lt. Gov., South Padre Island Democrat Morgan LaMantia has kept a narrow lead from Republican nominee and Corpus Christi resident Adam Hinojosa, who has yet to concede and is within the vote threshold for a recount.