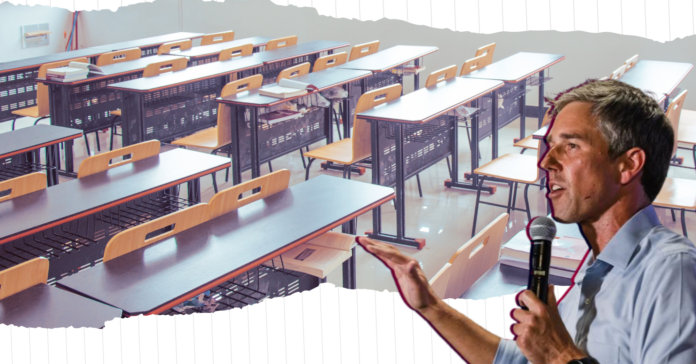 This week, gubernatorial candidate Beto O'Rourke, made a stop at Caldwell County during his "Drive For Texas" tour, where he pledged to be a Governor who cares about Texas teachers.

"I will be a governor who has the backs of our teachers by raising pay, improving their benefits, and fully funding our kids' classrooms," said O'Rourke to his supporters at Caldwell County. 
Texas is currently facing a teacher exodus, with a staggering 70% of teachers considering quitting this year. A poll conducted by the Texas State Teachers Association found that 94% of educators said the pandemic increased their professional stress and 82% said financial stress was exacerbated.

The survey also found that the average salary of the respondents was about $7,000 below the national trend. That is no different in Caldwell County, where a schoolteacher on average is underpaid by $12,500. 

"Over the course of this summer and through the fall, you're working a second or a third job just to make ends meet. We want to make sure that as you do your part, we do ours," said O'Rourke when addressing the unjust teacher's salary issue.

On a path to ending Texas' Teacher exodus crisis, the former El Paso representative promised better pay so that educators focus only on one job, canceling the STAAR test in the state of Texas and naming a classroom teacher as the next TEA commissioner.

On the other hand, O'Rourke's opponent, Gov. Greg Abbott has only driven a wedge between himself and Texas educators.

In the past months, Abbott and fellow Republicans in the Texas Legislature have solely focused on making educators' lives more complicated. They have attacked teachers over critical race theory and alleged "pornography" in school libraries. Whilst also censoring books that include discussions about race, gender, or sexual orientation. Last fall, Abbott also banned school districts from instituting mask mandates, as COVID-19 cases surged.


"For political reasons, Gov. Abbott has been trying to drive a wedge between parents and teachers, and this has definitely hurt teachers and hurt their students as well. It threatens the future of public education in Texas," wrote TSTA President Ovidia Molina.

"Many of these teachers will be missing from our classrooms this fall, and for others, it is only a matter of time."