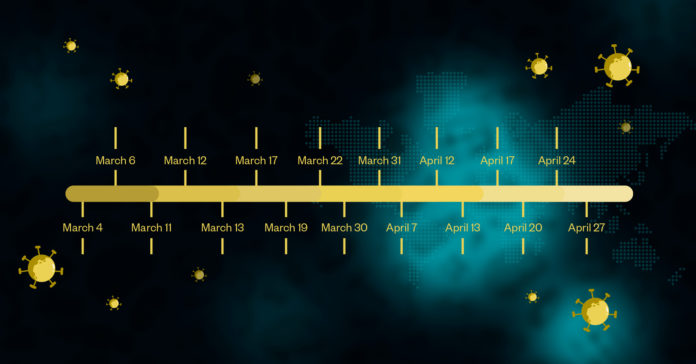 Since the first case of the novel coronavirus was reported within state lines, a number of responses have been made by state officials to mitigate the effects of the outbreak. Here at Reform Austin, we have kept an updated timeline of the events as they unfolded.
March 4: Coronavirus first surfaced in Texas when Fort Bend County public health officials reported the first presumptive positive case in Texas. The patient was a man in his 70s who had recently traveled outside the United States.
March 6: The city of Austin and Travis County declared a state of emergency. SXSW was canceled due to mounting concern from vendors, sponsors and attendees over COVID-19.
March 11: The Houston Livestock Show and Rodeo was canceled on the same day that the first case of community spread was identified in the state.
On this day, the World Health Organization classified the coronavirus outbreak as a pandemic.
March 12: Dallas County declared a local disaster, and the county banned gatherings of more than 500 people.
March 13: Gov. Greg Abbott declared a state of disaster. He told day cares, nursing homes and prisons to limit visitors.
March 17: Texas has its first known death from an illness caused by the coronavirus. The reported loss came just before Abbott activated the National Guard to assist in response to the outbreak.
March 19: Abbott advised all Texans to avoid groups larger than 10, ordering closures of Texas' schools, bars, dine-in restaurants and gyms until April 3.
March 22: Dallas County the first to issue local stay-home order.
The order came hours after Abbott said he would not implement a statewide "shelter-in-place" order but would instead leave the decision to local authorities.
March 30: Abbott's harsher restrictions on those entering from out of state goes into effect.
March 31: Abbott issued a statewide stay-at-home order, closing all schools until May 4.
April 7: Laredo became the first city in the nation to require the use of face masks in public. Anyone discovered without a mask could face a fine up to $1,000.
Additionally, Abbott announced he has instructed the Texas Parks and Wildlife Department and the Texas Historical Commission to close all state parks and historic sites.
April 12: Abbott extends the state's disaster declaration for an additional 30 days.
April 13: The governors' office announces $50 million in small business loans.
April 17: Abbott announced that, beginning April 24, hospitals would be allowed to perform a limited number of elective surgeries, retailers would be able to re-open their services and begin to offer curbside pickups and beginning April 19, state parks would be allowed to re-open.
April 20: For the first time in U.S. history, oil futures dropped below zero.
April 24: Under an executive order issued by Abbott, non-essential businesses could begin opening their doors through the state's "retail-to-go" program.
April 27: Abbott announced that he will let the statewide stay-at-home order expire on April 30, as a part of the first phase of reopening measures.
During the news conference, Abbott said that retail stores, restaurants, movie theaters, and malls could reopen May 1 with occupancy limited to 25 percent. Museums and libraries also were given clearance to reopen as long as their interactive areas remained closed.